Worship Street Whistling Shop, 63 Worship Street, London EC2A 2DU
This just in. Apparently I'm a super-taster, which is either very good or very bad news for me, dependent on whether it's desirable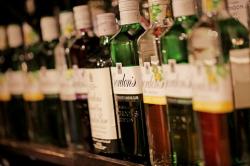 to be extremely sensitive to the five basic tastes and have an inbuilt sensitivity to the bitter and sweet ends of the flavour spectrum.
According to the test results I should be averse to sour food, neat cocktails and strong liquors like whiskey and gin. Wrong, actually, I love them, which is lucky really as I found out all of this while I was sampling the latest offering from gin giants Gordon's: the With a Spot of Elderflower addition to their range.
Within the dark and salubrious confines of Worship Street Whistling Shop, somewhere round the back of Liverpool Street station, cocktail maestro Tom Aske was shaking up summery, pastel-hued drinks designed to be slurped under the temperamental British sun – all containing Gordon's With a Spot of Elderflower.
I like floral-based gins, one of my favourite summer gin glugs involves Bloom Gin, but I could easily be persuaded to make With a Spot of Elderflower my go-to gin for the coming months. Unlike some flavour'hint' concoctions, Gordon's comes in waves.
It's unspeakably delicate, and instead of smacking you around the face with an elderflower encrusted branch, the vague but distinctive floral notes sweep across your tongue, lingering just long enough to leave an impact. Incidentally, if you're looking for a gin that goes exceptionally well with strawberries or cucumber instead of the tang of lemon or lime in your tonic, this one's a winner.
As well as the traditional G&T tasting and cocktail mixing, Gordon's had invited legendary master distiller Tom Nichol and historian Joanne McKerchar – who both looked right at home tucked into the Whistling Shop's leather and tapestry gentleman's study chairs – to talk us through Gordon's through the ages and the process that creates one of Britain's best-loved gins.
My history with Gordon's goes all the way back to some of my first tastes of alcohol with the stolen sips from my mum's gin and tonic glass. She was always partial to the charms of a small glass of Gordon's diluted with lots of fizzing tonic and mountains of ice, not exactly a classic example of gin's reputation as the infamous'mother's ruin.' But while gin and I might go back a while, Gordon's goes back far further than I ever knew.
The first brand of Gordon's London Dry Gin was brewed back in 1769 in Southwark; they released fashionable pre-mixed cocktail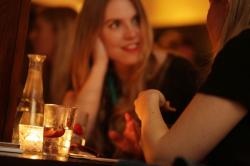 shakers in the 1920s and were making flavoured gins years ago. Eat your heart out all those modern gin brands that have popped up over east and south London in the past year as, while producers like Hoxton Gin might have recently released a grapefruit version that's been marketed as'the most distinctive gin in the world,' Gordon's did it with their ginger and their orange gins first.
Also in attendance were the Robin Collective, mad scientists and protégés of the experimental jelly genius' Bompas & Parr. Sitting into a cramped room with them soon turned from a simple tasting into a sensory exploration where gin wasn't just sipped, it was smoked, breathed in, chewed and swigged against a background of classical and jarring music.
They even had us stroking scratchy or soft surfaces while we downed spherified balls of gelatinous gin, which exploded and flooded our mouths with a burst of peppery Gordon's Gin. I'm always a bit sceptical when it comes to these experiments, which inevitably come coupled with the power of suggestion.
The thing is, when someone tells you that what you're tasting will be sweeter when you're touching a piece of fur or being lulled by an orchestra of violins your brain, rather than your taste buds, tends to agree. The super-taster test, on the other hand, was genuinely fascinating.
We were all given a tiny clear pouch containing a tiny square of white paper, which was, we found out afterwards coating in a small amount of
 6-n-propylthiouracil. Most people can't detect the chemical, but to super-tasters it tastes like you've swigged from a bottle of nail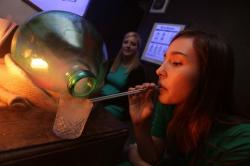 varnish remover, or at least it did to me and I had to spit the paper out within 30 seconds of it touching my tongue. The Robin Collective informed us that super-tasters have a higher concentration of taste buds than most people, meaning we taste flavours with more intensity and tend to lean towards sweeter flavours. I love sweets as much as the next person…well, more clearly and it was quite nice to be offered a handy excuse for my incurable cravings for sugar, but one thing I will never agree with is the assertion that I don't enjoy the taste of a dirty gin martini.
"Whilst supertasters often think that they are superheroes, they are in fact typically fussy eaters, not enjoying flavours which are too bitter or sweet such as grapefruit or coffee, preferring long cocktails with a large mixer. Whereas, mild tasters enjoy extreme tastes from sweet to sour as well as red meat and fatty food." Brandy from The Robin Collective
The super-taster profile (as well as putting paid to any sense of smugness me and my over-zealous taste buds might have felt) told me that every sip of that bitter, potent liver killer that's sour with onions or salty with olives should be abhorrent to my uber-sensitive sense of taste, but all I know is that when that first sip hits my lips I just taste one thing, and it's delicious.
Although, after discovering it, I could definitely be persuaded to swap out the regular gin for the sweet and floral touches of Gordon's With a Spot of Elderflower to appease my picky palate.
Gordon's Spot of Elderflower is available in supermarkets now.
If you need some gin-spiration, here're two of the coktails from the night using Gordon's With a Spot of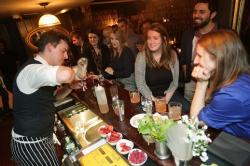 Elderflower. There's a sweet one for the fussy supertasters and a stronger one for those blessed with'normal' taste buds.
Summer Blossom
Easy to make and suiting any drinking occasion, Gordon's With A Spot of Elderflower, white wine, apple juice and a dash of Earl Grey syrup – it's a simple and elegant mixed drink, a real crowd pleaser.
Ingredients:
40ml Gordon's With a Spot of Elderflower
20ml Sauvignon Blanc
20ml cloudy apple juice 15ml Earl Grey syrup*
Garnish: Elderflower
Method: Shake all ingredients, double strain and add garnish
*Earl Grey syrup can be easily made at home by soaking sugar water with an Earl Grey tea bag overnight.
Southwark Sour
The powerful sweet and sour flavour, attractive garnishes and tasty mixers of this cocktail make it the ideal party serve.
Ingredients:
50ml Gordon's With a Spot of Elderflower
25ml Lemon juice 50ml Citrus honey water
15ml Raspberry vinegar
Garnish: Dehydrated lemon, raspberry
Method: Shake all ingredients with ice, strain and garnish
Method: Stir all ingredients, strain over ice and add garnish