Over the last few years, there's been a quiet movement creeping across London – the rise and rise of the supper club: the at-home restaurant where diners can share a multi-course meal at a fraction of the cost of eating out. To give some indication of the strength of the wave of supper clubs that are surfacing around the city, you only have to look online, where you'll even find insurance companies dedicated to providing specialist supper club cover – you know, for those evenings when your delicately wrought filo tart sends guests into a wine spilling, carpet burning frenzy.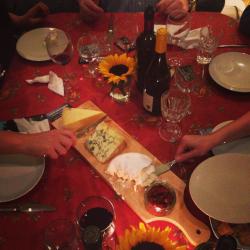 This cosy trend couldn't be more removed from a traditional underground food movement, however. No one minds if you talk about supper club. In fact, word of mouth and repeat custom is what's letting these intimate affairs thrive, which is why I've spent a few evenings recently jumping on the supper club band wagon…evenings that have invariably involved sitting in someone's lounge with a bunch of strangers clutching a bottle of wine from my kitchen cupboard and wondering why everyone seems to know everyone else.
It's important to add though, that not all supper clubs were made equal. Enter Rosie Llewellyn, a blogging, foodie powerhouse with an unblemished 5-star record on Grub Club. A perfect score is nigh-on impossible to achieve in food, because, as anyone who's ever cooked food ever in their life knows, you can't please everyone. You could cook an absolute blinder and still get some sad bastard whining about the shape of the plate or the fact that you've garnished the main course with an out-of-season herb.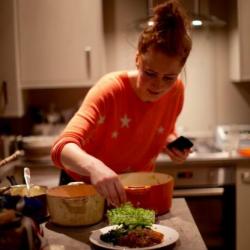 I've salivated over Rosie's instagram feed for months, so the thought of sampling her food first hand at her West London home filled with me undisguised joy. I've noticed that supper club evenings can be made or broken in minutes, often not by the food itself, but by the company. But then again, I have a sneaking suspicion that on Rosie's evenings, like really does attract like: and that means lovely people.
While Rosie was slaving in the kitchen carving oversized haunches of crackling-covered pork belly, I was knocking back a jam jar of rocket-fuel gin cocktail and discussing the British film industry with a bunch of German creatives and a couple of regulars who clearly seemed enamoured with Rosie's blend of no-nonsense, classic cooking – an encouraging sign if ever there was one.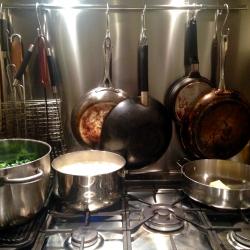 A sure sign of a good evening AT an event like this is the speed of which the meal flies, and this one passed in a blur of popping corks, platefuls of autumnal-themed food and unpretentious foodie chat (if that's even possible).
Certain highlights sang out throughout the night though: there were tiny squares of burnished, buttery shortbread wedged into dollops of glossy tart raspberry mousse for dessert; fat rounds of expertly-picked cheese that were begging to be scooped up onto the accompanying salted biscuits in between and sugar-coated sweets made from foraged, hedgerow fruit – Rosie's version of a Rowntree fruit pastille – that were almost boozy in their dark depth of flavour and bruised, purple colour at the end.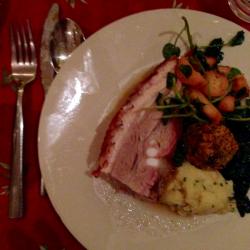 What I'm getting at is Rosie is a consummate professional who makes uncomplicated, hearty British food and to whom sourcing the best in season produce is evidently paramount. There wasn't really anything to fault with. If I'm being picky, which I suppose I should as I'm speaking for all the sad, fault-finding bastards out there (begrudgingly mind, as I genuinely loved the evening), the mouth-coating richness of the pork paired with black pudding bon bons, buttery mash and tonsil-ticklingly sharp-sweet plum-roasted parsnips was delicious, but the gravy was a little thin.
There. I said it…what a bitch. Hopefully Rosie will still have me back for the next one.