Is the mega mall Westfield the future face of eating? We braved the madding crowd to be there at the grand opening.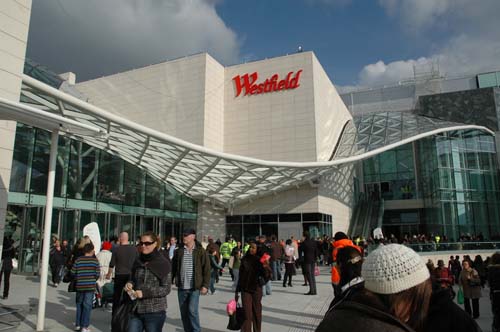 As the doors of Westfield were finally flung open for the very first time an avalanche of people crashed towards us. The Japanese photographer next to me faced them down like a big game hunter up against a herd of wildebeest, his Nikon whizzing furiously and then he was gone, swept away like a stick in a swollen river. He may still be there for all I know, washed up in a quiet backwater lying prone in the doorway of a mobile phone store.
The crowds were incredible, like Oxford St the weekend before Christmas and that's just what the people behind Westfield want; to take the business away from the traditional shopping areas of London. Will they take the restaurant business too? Probably not. The restaurants are all exciting, and a far cry from the old Food Malls of yesteryear where if you didn't want fries with it then you were liable to be out of luck, but at the end of the day it's still a mall. What is cool though is the sheer variety in one place and because the restaurants in the central Balcony have no designated seating unique to each restaurant, in just the one area you can browse a whole range of very good food styles and still eat at the same table.
Ironic juxtapositions ahoy!
At Croque Garcon, the Westfield outpost of Club Garcon in Smithfield, fat duck is on the menu. The duck burger with foie gras is a coronary waiting to happen, especially when teamed with the excellent chips. This is manly cooking for people who till the fields for a living or at least get the bus into town. Next door is Tossed where salads are a fine art. No mayonnaise, just yoghurt dressings, sandwiches made with bread low in salt and GI and the area itself a designer dream of brushed stainless steel and white American oak. Ian Pengelley, chef of Gilgamesh is doing a £100 salad there as a promotion 'Come over and meet the Tossers!" he shouts cheerfully at me, but I am committed to the duck burger. Tossed is doing great business though, with queues of people waiting their turn. Company ethics are impressive too. Respect for the environment is core to Tossed, with 95% of packaging environmentally friendly. Hot drinks, sugar and most snacks carry the FairTrade mark and food sourcing is carefully controlled. All the meat in the soups and stews is free range, chicken is farm assured and all eggs are free range too.
Families are not forgotten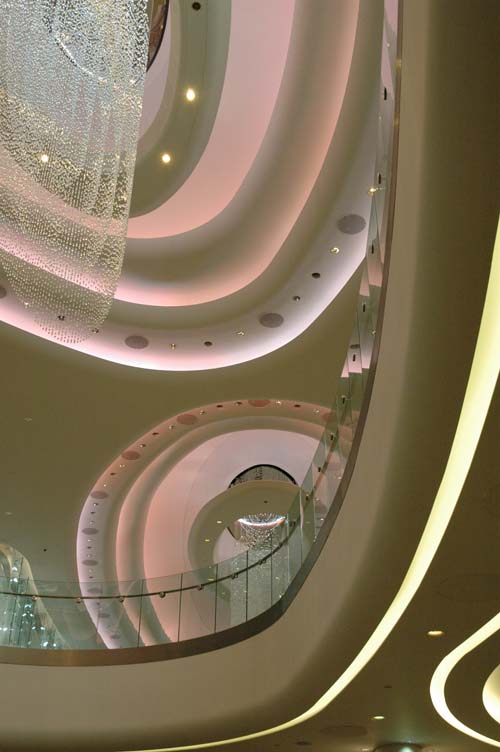 On the same floor as Tossed and Croque Garcon are Bamboo Basket, Shanghai Blues, Square Pie, Tiffinbites, and Yo Sushi!, but above in the Loft area there are restaurants for family dining, including a Nando's, Pizza Express and Byron. The latter transformed from a sulky youth who had it away with an aristo's wife into a burger joint for sulky teenagers. It's a good move having the family places three floors up; here the noise level of the average nuclear unit can go all the way up to eleven and no one shopping or eating at a more fancy restaurant will be disturbed.
Lets do Al Fresco
The Southern Terrace is almost balmy with access to the fresh air for the seventeen restaurants and cafes there. Esca, Gourmet Burger Kitchen and wagamama, Leon and Wahaca being just a few to have nice little al fresco areas that will be very attractive come the summer. Right now though there has been a failure in the gas supply and many places have their doors shut while men with ladders peer into false ceilings and the staff stand around twiddling their thumbs.
At the end of the day
The crowds are showing no sign of thinning out when we finally prise ourselves away from Quercy's champagne bar up in the Victoria Beckham Plaza, where bling brands abound attracting attention from knots of strolling youths who have had their hoodies banned but still have their jeans halfway down their backsides. Security here is subtle; apparently the number of invisible plain-clothes heavies is high, so I didn't once see the traditional mall cabaret of a fit young kid legging it with an armful of designer clobber while a fat sweaty middle aged bloke lumbered hopelessly in pursuit yelling into a cheap walkie-talkie.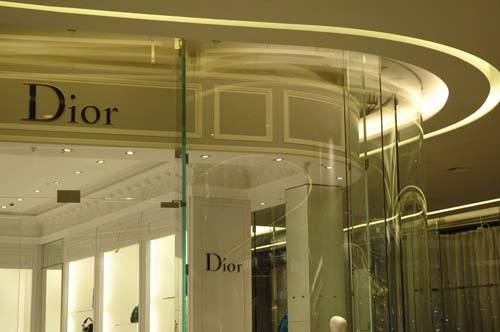 There's a lot to eat at Westfield and I feel it is my mission to try them all over the next few months. As for the shopping, like most men I can take but mostly leave it. I can see that as a one stop shop Westfield has it all though, even a decent rail link with Clapham Junction making it easily accessible for South Londoners such as me in under twenty minutes. It's probably picked the worst time to open, but hindsight is always 20:20. Even so, our love of malls seems insatiable and with this one so central to town and with such diverse and exciting food choices it should have what it takes to weather the coming storm.