69 – 71 Westow Hill, Crystal Palace, SE19 1TX
Tel: 020 8761 1175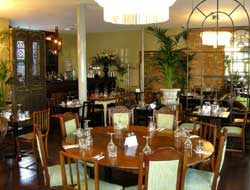 Cross the rubicon of Clapham, regarded by some people as a part of North London that got accidentally cut off by the Thames, and you're in the deep Sarf proper. Crystal Palace is as south as it gets really and yet only a few stops by mainline from London Bridge or Victoria, as any resident will tell you. It was this closeness and airy height above sea level that led to the great Exhibition Rooms of 1851 being moved here from Hyde Park. The Crystal Palace was a major attraction until the whole lot burnt to the ground in 1936, cheered on by my father who was allowed to stay up late in his winceyette pyjamas.
So here is an old Chinese restaurant smoothly translated into The Exhibition Rooms with gorgeously varied antique tables and chairs sourced from antique shops by co -owner and designer Wills Logue from the South of France and Morocco as well as London, a nice change from the standard issue every restaurant seems to buy, and with a sort of Empire vibe. Downstairs is a cool little clubby cocktail bar that feels like a boudoir VIP room with a courtyard for the smokers. Upstairs the dining room feels right and the menu looks good; no hunting around for anything attractive as it all sounds very eatable. Chef and co-owner David Massey has done time in big London restaurants and it shows in dishes that speak of areas more central London than Travelcard 4. The variety also indicates that he isn't, like so many suburban restaurant chefs, home alone in the kitchen relying on lots of pre-plated cold starters and simple dishes to keep the covers flowing out.
It's good to see mackerel as a starter, it's a fish that is still available in abundance, and oily fish we're told is good for the brain. My Squid, Leon Chorizo and Chickpeas in saffron broth with rouille and croutons was good; the chick peas were tiny Garbanzos properly cooked from dried and not monster mush from a tin. That said though they could have done with a tad more cooking, just as the squid could have done with a little bit less. Quibbles though as with that full-flavoured Chorizo kicking in the dish had great depth of flavour. Pan Fried Queenie Scallops with garlic and chilli fine herb salad and hazelnut oil were a little underpowered in taste and a bit more chilli would have helped. The hazelnut oil was a good call, that bosky nuttiness melding with the sweet scallops to fine effect.
Things jumped up a real notch with mains. Roasted Pollock (sustainable fish = full marks) with sautéed clams, razor clams, mussels with fresh tomato, parsley, white wine and garlic was bathed in the sort of broth you want to take a straw to, it was that good, and the clams and mussels were perfectly cooked. Nice too was the provision of a spare plate to lob the empty shells on; many places forget that helpful courtesy. Embarrassingly I couldn't find the razor clams but in fact what I thought were turned boiled potatoes actually turned out to be the razor clams, as the kind manager politely pointed out to me. The plate of chips ordered with the dish was perfection; sprinkled with rock salt, golden, crispy outside and fluffy in. How many restaurants can cook a decent chip? Not many.
Roasted Salt Marsh Lamb with Puy lentils, spinach, Bury black pudding and salsa verde was equally good. Salt Marsh lamb is the lamb I always buy for home consumption and we liked this dish for its perfectly pink meat with the black lentils just al dente and the black pudding wet and loose around it. Very comforting, yet modern in idea and execution.
We rounded it off with Sticky Toffee Pudding with vanilla ice cream. Ok so it's not going to win any beauty contests but it's a pudding that has no pretensions, just gooey tastiness. The gastro pub almost killed off this great dessert, banishing it to the gastronomic hinterland where the Black Forest Gateau lives but this proved there's life in it yet.
And The Exhibition Rooms proves there's life in SE19 too, a place to come back to regularly for well-priced, well cooked food and, if you're in a party mood, what look like great cocktails too. Plus there's a breakfast and brunch menu and Sunday roast too.