Murray won Wimbledon, The Ashes have been retained, the football season is waking up from a four month nap – yes readers; the summer is nearing its end. Next week we'll be halfway through August, and then before you know it you'll be handing out sweets to passive-aggressive zombie children and unwrapping socks from Aunt Mildred while Bing Crosby warbles in the background. Make the most of what is left of this unusually fair summer and sample some of the more fun menus on offer for the season's last hurrah. The August bank holiday is just around the corner, so while there are still coals on the BBQ and half-inflated paddling pools in the garden, why not get out there and enjoy it? Here's our pick of what's new for August and what's coming up in September.
So-ho Central
To some Soho is the centre of London. To me, it's the centre of the world. OK, maybe that's a little dramatic, but where else in London can you wander around at 3 in the morning and see everyone from celebs to strung out part-goers and beardy bear-types? The newest restaurant to one of the busiest streets in Soho, Great Marlborough Street, is Central & Co. Set across two floors, a casual ground floor restaurant and a basement bar below it, this place serves breakfast, lunch and dinner, reasonably priced.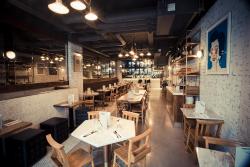 Hungry and in Soho? Mains such as roast corn-fed chicken breast with grilled spring vegetables, baby jacket potatoes, Lancashire cheese & spring leek sauce; grilled flank steak with hand-cut chips, horseradish cream, slow-roasted tomatoes & watercress; red onion & oxford blue puff pastry tart with baby spinach, pear & candied walnut salad showcase British ingredients and sound rather tasty, too.
There's also a selection of light bites including glazed baby sausages and mini smoked fishcakes; lunchtime salads such as rare roast beef rump, roast beets, pea shoots & horseradish cream. On Sundays roasts are served every Sunday from 12pm; and breakfasts including Maldon Smoked Salmon & Scrambled Egg and Leavened Pancakes with Crispy Bacon & Golden Syrup.For those who prefer a liquid lunch drinks are as well considered as the cuisine, with wines and beers chilled in custom made fridges to optimum temperature. Fancy. The carefully curated list takes in fine wines, British beers and innovative cocktails including a Quince Sour with Glenlivet 12 Year Old Single Malt, Quince Liqueur, Kummel, fresh lemon, caraway seeds & egg white and the Spring Garden Martini with fresh basil, pressed apples and vodka.
& Co.
The basement bar definitely gives out cool arthouse vibes. Velvet draping, low lighting and artwork, including a Matt Small original painted on a car bonnet, Jessica Albarn's hand-painted ostrich egg and a rare canvas from Ben Eine make this basement bar a good first date option if you're out with an art school type or you want to appear impossibly chic. On the drinks side the bar boasts a good selection of unbranded spirits, vermouths & liqueurs displayed in glossy, cut glass decanters.
Open the Vaults
Coal Vaults, a new restaurant/bar opening late August on Soho's Wardour Street, is hoping to add some sooty glamour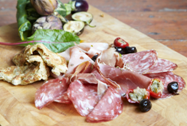 and good food to the most bustlingly busy part of the West End. Set inside a site originally used for coal storing in the 19th centry, young entrepreneurs Simo (Martyn Simpson) and Felix Leuschner have brought in Chef Magnus Reid to consult and Chef James Knox to spearhead the kitchen, and Jermone Slesinski to work the bar.
Focussing on ingredient-led cuisine with attention to quality and seasonal produce, sample dishes includefive hour shoulder of lamb cooked in hay and lavender and served with caper, mint and spiced anchovy couscous; Westcombe dairy ricotta cakes with figs, wild rocket and balsamic syrup; Seared scallops with black pudding, cider sauce and celery salted apple crisps and Earl Grey bread with butter and strawberry jam.
Following the direction and approach of the kitchen; and with every dish on the menu listed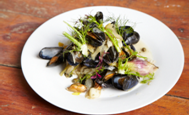 with a cocktail to match, there will be as much emphasis on the drinks offerings as the food.  Slesinki's adjoining bar aims to give the best quality cocktails, with home-infused blends and fresh (pun intended) takes on old favourites (make mine an Old Fashioned!) If it's wine you're after there will be a large selection of old-world wine available as well as beer from local London breweries.
With a young dynamic team, great location and interesting, Coal Vaults is definitely worth checking out next time you're out in the West End, if only to be able to boast about finding Soho's newest hit restaurant. Open seven days a week from 4pm-12.30pm, click here for bookings.
Foie Gras Pour Moi
If you like to eat like a princely Parisian (without the whole guillotine thing) and enjoy foie gras, Sho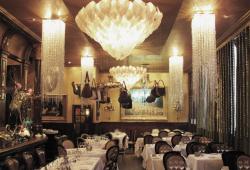 reditch restaurant Les Trois Garcons have come up with a handy way for you to eat well and have pennies to spare. For £25, Les Trois Garcons are offering an early bird special from 18:00-19:00, perfect for those who fancy a bite to eat straight after work.
Head Chef Michael Chan has prepared a choice of three dishes for each course, including a green bean, almond and foie gras salad starter.  As with the restaurant's a la carte menu, Michael offers light dishes based on classic French style, but with a modern approach to clarity of flavour. 
He favours simple presentation, and clever technique, often using skills learned from his Chinese father, to bring fresh textures to his menus, and creates a new way of presenting favourite ingredients so that you see them in a different light. And at £25 for three courses, you really can't complain.
The New Afternoon Tea
When it comes to Afternoon Tea, you really are hard pressed to find somewhere more classic than The Dorchester. World famous for it's quintessentially British Afternoon Tea, The Dorchester is rather committed to modernising and making the whole experience a little more fun. Case in point, the summery Ice Cream Tea. Served on a perspex arch in minuture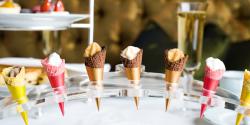 cones. There are four home-made and endlessly English flavours available – Elderflower sorbet, Cox apple, English honey and Earl Grey tea. Available five sittings a day and priced from £41.00 per person, get it while it's, uh, cold, because it's on offer until 1st September. 
Elsewhere on the tea front there is new restaurant Bo Lang. Part dim sum restaurant, part tea house Bo Lang comes to Chelsea's Draycott Avenue in September. Offering a mix of traditional and contemporary dim sum (potential highlights include lobster with goji berry, and snow crab, coriander and water chestnut with balsamic pearls,) and complemented by Shaun Clarkson interiors, Bo Lang is shaping up to be one of the hippest additions to the Chelsea post code. If you're after something a little more reminiscent of 30s Shanghai (and let's be honest, when aren't you?) there is also a menu of beautiful sounding Afternoon Teas as well as Oriental-inspired cocktails with names that might get you in the mood for love (Fortune Martini sounds like a Hong Kong James Bond, Jade Dragon sounds like the love interest.) The Afternoon Tea is served in traditionalcast iron teapots and served with classics like mochi and macaroons, and a selection of rare and iced teas.
Light Bites
Another week another new menu, here's a roundup of the nicest new menus this side of food heaven.
Kensington Place has just started serving a fun new set menu. The FISHbonemenu includes a 'Scallopdog'; and much like Tobias Fünke's never nude condition, that's exactly what it sounds like. The Scallopdog is essentially a Scallopy dog, brown shrimp vierge, cucumber and served in a brioche bun. There are also 'fried wings' for those pescetarians that like to think life ain't nothing but a chicken wing, which is made with tender spicy fried skate fillet, triple cooked chips and fennel slaw.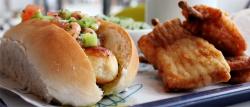 All of the above arrives together on a tray and is priced at the very reasonable £25, so excellent value for those looking for a relaxed or informal lunch/dinner that offers something a little more interesting than the typical fare. Wash this down with a dessert cocktail, the aptly name "Float your Boat", a mix of Kraken rum, home-made vanilla ice cream and coca cola.
Soho's Spice Market has just launched their 'Pitcher and Platter' promotion to celebrate the summer. For £40, diners at the pan-Asian restaurant can choose from their signature Ginger Margarita, Spice Market Sangria, or Patio Spritz, a new creation made with Aperol, accompanied by a platter of delicious Spice Market nibbles: crispy squid, plump chicken samosas and Vietnamese spring rolls to share. The promotion is available anytime, but seems especially well suited to end of work day nibble and cocktails sessions, or as a prelude to a slap up meal at Spice Market.
Blueprint Café has just started serving unlimited Prosecco with Sunday lunch – a pretty good deal if you like your turkey with a side of bubbles. The restaurant in Shad Thames aims to offer a tasty Sunday menu of roasts with all the trimmings, and lighter dishes such as a seared Yellowfin tuna nicoise, and unexpected finds such as mackerel tempura, or grilled aubergine with cous cous, yoghurt, mint and pomegranate.
Back in Old Napoli That's….
If all you know about Naples are Dean Martin songs and this episode of The Sopranos, London's Spaghetti House are determined to change that. This summer they're cooking up one of the best loved dishes in Naples – Cuoppo. Essentially a rolled up cone of greaseproof paper filled to the brim with morsels of fresh fish and seafood, it is a staple of Neopolitan cuisine. 
Throughout the summer, you will find this Neapolitan tradition at Spaghetti House on Fridays only, where a Cuoppo di Fritto Misto is served with aioli sauce, Sicilian lemon and a seasonal green salad for £11.50.  Along with other tasty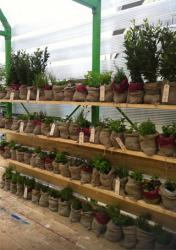 summer specials served throughout the week, such as Tagliatelle al Nero di Seppia  – Squid Ink Tagliatelle with Seafood at £10.95 or Risi e Bisi  – Carnaroli rice risotto with peas and pancetta at £12.95. If this topsy-turvy weather is getting you down, grab a glass of chilled Falanghina, arguably Campania's most famous wine, and you'll find yourself, as if by magic, in a tiny Naples bar cursing the day that Tony Soprano was born.
Herb Fest
This bank holiday the Southbank Centre will play host to the Festival of Neighbourhood. The festival aims to get a friendly street party atmosphere going, and will helped by a  temporary greenhouse structure that promises to be packed to the gills with herbs selected by Britain's leading herb expert Jekka McVicar, as well as a bustling café. The Café offers such sweet treats as Lemon Verbena Shortbread, Pine Nut and Rosemary Cookies, and Orange and Lavender Loaf Cake. On the rooftop, herb-infused drinks are available, including Lavender Lemonade, gin-based Summer Cocktail and classic British Pimms with freshly grown mint.
Bringing Back the Buttie
At Islington's The Fish & Chip Shop they're going back to basics. Yes, the buttie is back. But not just any buttie. Gone are the days of the humble fishfinger sandwich, instead this school dinner favourite has been given a make over with freshly made pea puree and a  crusty white bloomer bread, priced at £7.00. If you're after some equally fancy chips, there are hand cut chips with home made apple, onion and curry flavoured sauce that packs a little extra spice, which is £4.00. For those looking to indulge there is the slightly more sophisticated lobster and avocado bridge roll, which is a mixture of lobster, lemon dressing, and avocado guacamole with red onion coriander and chilli, which will set you back £16.00. Away from the sandwiches, there is a mammoth shrimp burger, topped with hand prepared spicy tartare sauce and served in a toasted brioche bun, and you can finish off your buttie/burger experience by adding a side of double fried hand cut chips, pickles or mushy peas, before washing it all down with a Fish & Chip Shop milkshake or cocktail.
Bunnychow in Boxpark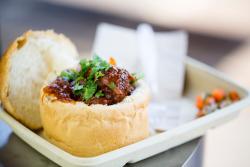 In Late September South African food truck bunnychow will be setting up shop at Shoreditch's Boxpark, its first site on solid ground.
You'd be forgiven for thinking that bunnychow is for wittle wabbits, but this adorably name sandwich-curry hybrid is actually the brain child of inventive Indian sugar workers who sometime in 1940s Durban got sick of transferring their lunches from pot to plantation and decided to cut out the middle man by filling loaves of bread with curry. De-lish and practical. Now bunnychow are serving up a 12-strong menu including exotically named dishes like 'Monkey Gland Bunny' (meatballs simmered in South African monkey gland sauce) and 'BBQ Bunny' (pulled pork in BBQ sauce with melted cheese.) Elsewhere you can try the Bobotie burger and goats cheese & peppers, alongside lime & chilli crayfish, nutty citrus chicken and feta & pea.  Fans of orignial Biltong can also rejoice – it'll be there in droves waiting to be eaten.