Lucy Self talks to Tristan Stephenson, one part of cocktail collective Fluid Movement about spices, stand offs and being selective…
Way back in June, when the summer sun was a mere twinkle in the sky, we attended the launch of the VOC Grill in Kings Cross. Now we could have made it easy for ourselves, written a few words on an evening of cocktails and canapés and left it at that. But as the most interesting thing about the night were the drinks from molecular mixology master-team Fluid Movement (who helped open the VOC Bar two years ago) we thought we'd try and pin them down for a chat.
Fast-forward six weeks, various business trips to Las Vegas and Dubai (him not us), and a cocktail competition on a yacht (same) – and we finally got Fluid Movement co-founder Tristan Stephenson, to talk to us.   
For those that have missed the collective's assault on the London's cocktail scene over the past few years, they are the award-winning events and consultancy company behind Purl and The Worship Street Whistling Shop (two of the most popular and acclaimed bars in London), known for their Midas touch when it comes to delivering a cutting-edge booze joint.   
With VOC they decided that punch deserved a comeback, so created the bar around the concept of a 17th Century punch tavern scouring historical recipe books for long-forgotten concoctions which, Tristan informs us,  "actually pre date cocktails by at least 200 years." It was named'VOC' after the Dutch East India Company or Vereenigde Oost-Indische Compagnie who "controlled all the trade routes from India up into the Med." Many of the herbs and spices that would have been traded by the VOC ended up on the drinks list.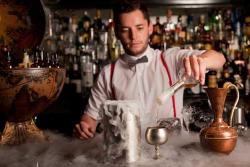 Tristan also informs us that the word'punch' comes from the Hindu word'panch' meaning five because "you typically have five elements in a punch – something sweet, something alcoholic, something sour, something spiced and finally something long like tea or juice." This attention to historical detail seems typical to Fluid Movement's approach, as do certain props and tricks to "keep things as experiential for the guests as possible." At the VOC Grill launch this was aptly demonstrated by the recently added'Stand Off' – a concoction of Jack Daniels, fig liqueur, chocolate bitters and root beer served with a loaded revolver.  
Upcoming projects, which include an Indian restaurant by the people behind Trishna and a bar in Bangkok which Tristan's "not really allowed to talk about", seem to be coaxing their cocktail creativity even further.  Most intriguing is a London restaurant called Bauhaus, themed around the art movement of the same name. Here, rather than focusing on flavour profile, they are for the first time deciding the design first – which is "backwards thinking". Currently the main challenge is "getting simplistic shapes to interact with each other." explains Tristan (We must look blank at this point, so Tristan helpfully elaborates on experiments involving perfectly square ice cubes, chocolate dustings in triangle shapes and block colour.)  
The conversation moves on to fun levels and how much has changed for them since they started Fluid Movement in 2009 (Tristan started out as chef, then fell into bar work which eventually lead to him setting up the bar at Jamie Oliver's Fifteen in Cornwall, where he loved "having unlimited access to foraged food and seasonal biodynamic ingredients.")
So is it as fun now?
"The fun levels are the same. Hunger at the beginning makes everything exciting but now we get to work on more interesting projects with bigger budgets. We get to be selective, which is not a luxury you have when you're starting out."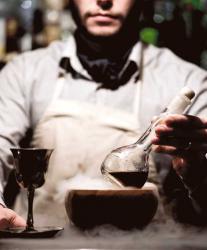 As Tristan takes us thorough some of his past and present projects – such as the now closed Dach & Sons in Hampstead where he decided to put himself in charge of the menu despite not having cooked professionally in years because "the more I've found about the science of drinks, the more I've wanted to refer back to the science of food" – it's easy to believe that Fluid Movement are far from complacent.  
The next challenge for Tristan is his first book, which he describes as "one part manual on mixing drinks with modernist techniques such as barrel ageing, sous vide and smoking; one part recipe guide with 28 classic cocktails and 28 interpretations; and one part story book."
Hitting bookshops on 10th October, The Curious Bartender is sure to be a huge success for Stephenson and, after stealing a few minutes from his impressively tight schedule, we can't help but think he deserves it.