Boo!
Made you jump. Still got it.
Whether Halloween means curtains drawn and scary films or handing out the goodies to all manner of devil-dressed children and witches, I think we can all agree that there is no better excuse to eat food that looks a little like body parts without feeling like a cannibal (cough Shia LaBeouf cough ).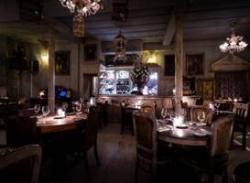 Cemetery Gates
This year, if you want to get your scare on and do something a little more taxing than pouring a little Spanish  Fly in to your friend's party punchbowl, head over to West London gastropub/all purpose space Paradise by Way of Kensal Green. This night of the living dead, Paradise will be hosting an intimate tour of Kensal Green cemetery, allowing you to trip around one of London's most distinguished burial grounds with open vaults containing original coffins dating back to the 1800s. Guests will be offered a complimentary cocktail in the cemetery chapel (to help settle nerves) before heading off on the tour. And, if all that walking on the wild side gets you hungrier than a baby vampire, Paradise will be offering priority booking for the restaurant where upon a Halloween infused a la carte menu can be enjoyed.
 Date: Thursday 31st October 2013. Starts: 6pm. Price: £20
 Tickets: https://theparadise.ticketabc.com/events/paradise-halloween/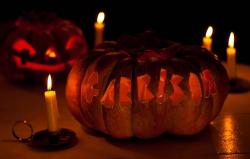 Carry On Screaming
Bermondsey Street gastropub, The Garrison, will celebrate Halloween this year in slasher-tastic  style by showcasing a screaming screening of Halloween in their private Cinema Room – just watch out for the flying popcorn.
If you do choose to attend this Halloween extravaganza, you will be welcomed with a complimentary 'Killer Cocktail' and a suitably spooky selection of canapés. To kick start this wicked night, and before venturing into The Cinema Room, a pumpkin carving competition will take place and while you spectate, for those with a sweet tooth, dare take a bite of The Garrison Toffee Apples.
The movie will commence at 7.30pm so arrive at 6.30pm to enjoy the freaky festivities.
Prize for pumpkin carving competition: Dinner for 2 at The Garrison (for the value of £80)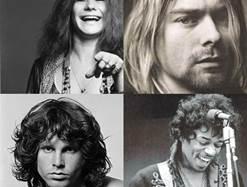 Date: Sunday 27th October. Starts: 6:30pm. Price: £10 Tickets can be bought here.
Leave a Beautiful Corpse  
Party the'hope I die before I get old way' with the '27 Club Halloween Bash,' remembering the members of the infamous 27 club – Kurt Cobain, Brian Jones, Jimi Hendrix, Amy Winehouse, Jim Morrison, Janis Joplin, Robert Johnson and more – will be playing throughout the night, with DJ BBQ on the decks. Alongside this will be'The Quangos' live, face painting, pumpkin carving and dressing up. As well as the usual selection of cocktails, revellers can sip on a'mulled Winehouse' or'Ginny Hendricks.'
Date: Friday 1st November 2013. Starts: 7pm till 1am, Free Entry
Hocus Pocus 
To mark this year's Hallow Eve, Ping, the West London based restaurant, bar and ping pong rooms will host its eccentric, essential fancy dress party on Thursday 31st October. Ping will be transformed into a ghoulish lair, and dressed with haunting props and lined with pig heads and other spooky finds…. For those who need a helping hand with there make-up, the professionals will be on hand to lend assistance in Deano's room of fancy dress. Music on the night will be by local resident DJs Real Nice and Shark Bait.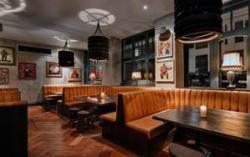 Tonight We Dine in Hell This Halloween BRGR.CO will embark upon the grim, gloom and gore of the frightful season with the new "Silence Of The Hams" serial killer BRGR.  Meat lovers can feast on a 6oz tender blend burger, topped with seared foie gras, fava bean, pancetta salsa and holy cheese. Those dining in fancy dress will receive an exclusive treat…so don your best Sleepy Hollow cosplay! Elsewhere, sketch will be offering a special cocktail, Rose Noir, on its brand new cocktail menu in the eclectic Parlour room with lots of nooks and crannies hide away in. A prickly infusion of dark pressed plum, hibiscus and a squeeze of lemon, it holds an unexpected kick of rosemary and spiced rum, spicing up the seemingly innocent cocktail.
Villain-dry
  Villandry, the French Mediterranean Grand Café and Restaurant, will offer a selection of ghoulishly gorgeous limited edition spooky sweet-treat for the scariest season. Comprising of Casper ghosts and the traditional classic, pumpkin pie priced from £2.90 per slice, the offerings will be freshly made on site daily. The Halloween treats will be available to eat in store, or as take-away options for those on the go. Villandry's meringue Casper ghosts are a terrific, fun, and gluten free treat priced at £0.50 each.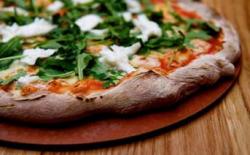 Pumpkin Pizza
Fields Bar & Kitchen, which opened this summer to great success, is located in the middle of Lincoln Inn Fields, London's largest public square. Fields is well known for its wood fired oven and this Halloween will be putting on a Special Halloween Pizza with roasted pumpkin, sage and ricotta on the 30th, 31st and November 1st!
Spooky Halloween Cocktails at Royal China Canary Wharf
Fancy yourself as something of a fang banger? Call yourself Carmilla and like to sleep in a coffin? If so, Canary Wharf's Royal China is the Halloween boozery for you. On All Hallow's Eve, Canary Wharf's Royal China will be serving up a spook-tacular treat, the Blood-Sucker cocktail, priced at £6.50. The alcoholic Blood-Sucker contains vodka, Archers, grenadine and cranberry juice.  Diners can also opt for a tamer, non-alcoholic, fruit version of the cocktail priced at £5 each. Both cocktails will be available on Thursday, 31 October 2013.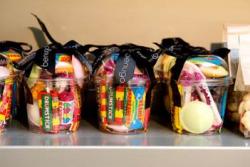 Royal China Canary Wharf accommodates 130 guests, while the large alfresco terrace overlooking the Thames seats 80.  Royal China Canary Wharf is a minute's walk from the Thames Clipper's Canary Wharf Pier, so a lovely setting for the scariest night of the year.
Tricks for Treats 
When you get down to it and strip away layers and layers of liquid latex that you thought was a good idea at the time, Halloween is really all about the sweeties. I've always been a fan of the gummies, but then, who isn't partial to the odd stick of fruit salad, or the romance inducing love heart? Get down to your local Benugo café & deli and pick up their collection of Retro Sweets, which includes favourites such as 'flying saucers', the love'em or hate'em'black-jacks',  and the mouth wateringly chewy'refreshers' (125g priced at £1.95).
Creepy Cakes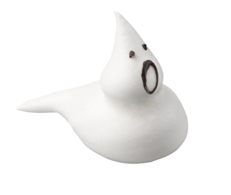 For the classy crypt-kickers with a taste for Afternoon Tea fit for the afterlife, try The Montagu's spooky themed menu, which will be available from Ocotber 28th – November 2nd. The pastry chefs at The Montagu – which has been awarded two AA rosettes – have created a sickenly sweet-treat selection for the occasion, including Black Liquorice Panna Cotta, Pumpkin Frangipane Cakes and sawn-off finger Cupcakes! In addition, the Halloween Afternoon Tea is served with devilish sandwiches, scones warmed by Satan himself and the Hotel's first ever seasonal tea library, including a collection of exquisite teas, produced by two artisan, family-run and sustainable tea gardens. The teas are curated seasonally by the Hotel's boutique tea traders Lalani & Co and therefor the library and teas change throughout the year.
The Halloween Afternoon Tea will be served between 3:00pm and 6:00pm (Sunday between 3:30pm and 6:00pm) and costs £30 per person.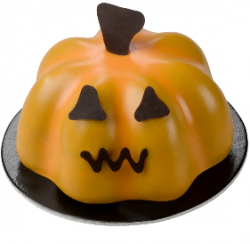 My favourite part of Halloween is the sweets, and then the inevitable fact that you have leftovers for weeks to come. If you're a little over gummy sweets and eyeball shaped choccies, head to Maison Blanc for their dangerously sweet Halloween treats.  Maison Blanc's spooktacular 2013 line-up sees Boris the Spider crawling back into stores, along with a host of delicious new friends, available from 15th October. Highlights include the ret
urn of Boris the Spider, a chocolate shell with a rich chocolate mousse and dark berry centre topped with a cream-filled profiterole (£5.20 Eat In / £4.30 Take Out) Pumpkin Pie and the Spooky meringues, as well as a whole host of other naughty nibbles. 
Macabre Macarons
Yauatcha, the Michelin-starred Chinese dim sum tea-house in the heart of Soho, has created a range of seasonal macarons and chocolates available a la carte and from the front-of-house patisserie. I approve of this because Yauatcha sounds a little like Yamcha from Dragon Ball Z, and I will use any excuse to reference it. In addition to the existing array of petit gateaux, the limited edition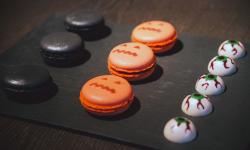 offerings include Pear and Liquorice macarons (matte black macarons with a ghoulish green centre); Pumpkin Spiced macarons (resembling a pumpkin lantern, only much tastier) and Halloween Toffee-Apple Eyeball Chocolates (white and dark chocolate eyeballs filled with green apple paté du fruit and salted caramel).Macarons available from £1.60 each, £9 for 6 pieces or £18 for 12 pieces. Chocolate eyeballs available for £3.50 for 40g; £8.50 for 100g.
Offering tea, smoothies, cocktails and petits gateaux for an alternative afternoon tea, guests can enjoy these limited edition macarons and chocolates either at the restaurant or have them gift-wrapped and taken home, from 22nd to 31st October 2013. 
Yauatcha's Chilli Martini is festively orange and green hued and pairs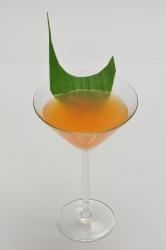 perfectly with the sweet treats, comprising Belvedere vodka, Aperol Barbieri, chilli syrup, orange juice and Champagne (£9.80), plus who doesn't want to drink something that is obviously Halloween in a martini glass? That would make a good costume – zombie James Bond.
Try These at Home:
Parmigiano Reggiano and Pumpkin Soup