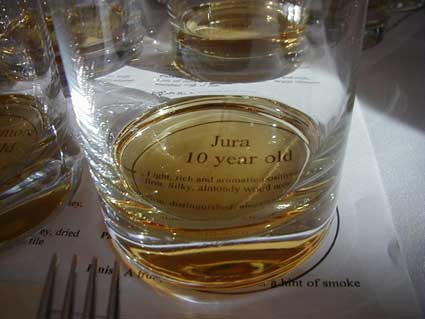 Drinking whisky during lunch is not something I do on any kind of regular basis. There's the worry that perhaps the food will spoil the whisky or vice versa, plus the extra concern that I might lose the afternoon's work or even any memory of the afternoon at all.
However Whisky Month in Scotland is coming up in May and as so we're attending a wee precursor to the event, one that will last not just the month of May but will carry on with events for the rest of the year. The idea is to explore Scotland through its national drink and discover the beauty of the country with a glass in your hand. And with foreign holidays looking increasingly unaffordable this surely is a good idea. Why wander around the vineyards of Spain, increasingly treated as a poverty stricken leper by the locals, when you can put money into a local economy, see fabulous scenery and enjoy many a glass of some of Scotland's remarkable range of whiskies?
There are over 100 malt and grain distilleries in Scotland based in the regions of the Highlands, the Lowlands, Speyside, Cambeltown and Islay and just as with wine, the geography and climate of each region influences the whisky, along with the individual skills of each distiller and blender. During Whisky Month many distilleries that do not usually allow visitors inside will be throwing their doors wide and inviting whisky fans into their inner sanctums for exclusive access to see the water of life through its ancient production process. And of course as part of the celebrations there will be music, dance, song and feasting. Oh and some golf of course.
The month long programme of more than 30 events includes the newly extended Spirit of Speyside Whisky Festival, the brand new Spirit of the West festival, a specially commissioned musical production of Whisky Galore, Feis Ile – Islay's Malt and Music Festival.
Mmmmm .. peaty!
So here we are at Roast in Borough Market with some much-needed morning sun blasting through the big windows and sparkling through the six glasses of individual whiskies we all have in front of us, beer mats on top to stop the different aromas mixing up. It's a tempting sight for sure, the differing degrees of gold and amber really rather beautiful to behold.
Here too are Sheila McConachie and Graham Harvey, owners of the Craggan Mill restaurant www.cragganmill.com in Morayshire and joint authors of The Whisky Kitchen, a winner of one of the Gourmand World Cookbook Awards. They're here to provide a dish to go with each of the six whiskies, each dish containing some of the whisky as an ingredient. As tasting menus go, this sounds like an excellent idea to me and certainly different to the norm.
It would be a long process telling you of each dish, but the tasting menu went like this:
The menu
* Hot Soup Shot of Haggis Veloute with Glenfarclas 15 year old Single Malt
* Mini Smoked Haddock Fishcakes with Talisker 10 Year Old Single Malt
* Crab Spoons with Tomatin 12 year Old Single Malt
* Grilled Lamb Cutlet with marmalade and Jura 10 Year Old Single Malt
* Roast Pork Belly and Crackling with Craggamore 12 Year Old Single Malt
* Chocolate Truffle Torte with Glen Moray 15 Year Old Single Malt
And very nice it was too, some interesting dishes that I could have eaten more of given the time.
Nick Harman
Whisky month in detail
In Speyside the celebrations begin at the Spirit of Speyside Whisky Festival on the 1st May. Celebrating its 10th anniversary during Homecoming, the festival has doubled in size for 2009 extending its programme over 10 days and offering specialist whisky tours, tastings and gourmet food events at distilleries. For families, activities combine whisky and leisure to create a variety of entertainment, scenic walks, golf, sport and exclusive retail opportunities. The festival finale on Saturday 9th May 'The Spirit of Speyside' embraces the music, dance and song of the region in a spectacular event on the idyllic banks of the River Spey, at Aberlour. Headlined by renowned Scottish band, Capercaille, the entertainment will come to a dramatic close with a stunning display of fireworks.
Learn more about whisky and head across to the University of Aberdeen's Word Festival 2009 for Maclean's Malt Whisky Tour of Scotland. Charles MacLean will talk about his new book MacLean's Malt Whisky Handbook and explore the flavour and character of Scotch malt whisky. In Aberdeenshire, take the opportunity to enter Ardmore Distillery – rarely open to the public – where you can experience a bespoke tour and whisky tasting session.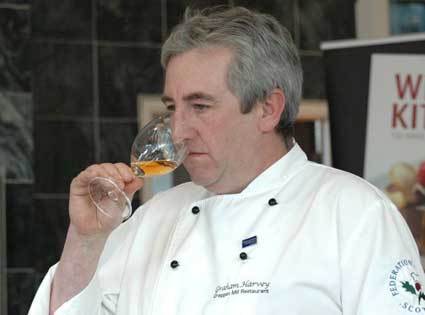 Head up to the Highlands and visit Dewars World of Whisky, where Homecoming is celebrated with "Dewar's Signature Tour" a chance to taste some of the world's finest and rarest whiskies from Dewar's premium portfolio and a warehouse tasting of Aberfeldy Single Malt.
Incorporate whisky tasting with a weekend break. Book a Glenmorangie Whisky Weekend for fine Scottish hospitality while visiting the home of Glenmorangie in Tain, or head to Skye's Iconic Dunvegan Castle for an unforgettable evening with Talisker Distillery.
Heading further north to Orkney, Scotland's most northerly distillery, Highland Park flings open its doors for a free, exclusive Open Weekend on the 23rd and 24th May.
Celebrating the spirits of the Highlands, Islay and Campbeltown on the 16th – 17th May is Spirit of the West, a brand new festival which takes place in the stunning grounds of Inveraray Castle. Whisky tasting, food sampling and cookery demonstrations will run alongside historical trails, fashion shows, music, arts and crafts and golfing activities with a lively ceilidh giving you a chance to enjoy a few drams.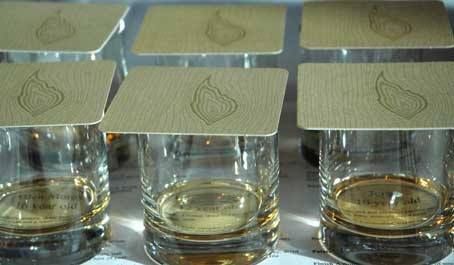 Continuing the Islay celebration, take part in the legendary Feis Ile – Islay Malt & Music Festival from the 23rd- 31st May which features a week long programme of events at Islays Distilleries.
In the Lowlands of Scotland there are plenty of opportunities to sample a dram and get a flavour of Whisky Month. Visit Auchentoshan's newly refurbished Visitors Centre near Glasgow and make sure you stop at Edinburgh's Scotch Whisky Experience for 'Enthusiasm for Scotch' and The Diageo Claive Vidiz Scotch Whisky Collection – the world's largest collection of whiskies – a 'must see' for Whisky fans and novices alike.
And the celebration of this famous tipple doesn't stop there! For a full range of the whisky events taking place across Scotland throughout 2009 and for information of whisky packages, trails and itineraries go to: www.homecomingscotland2009.com/whiskymonth

Gavin Hewitt, Chief Executive of The Scotch Whisky Association, said:
"Whisky Month in May is the perfect time to visit Scotland, the home of whisky. An exciting programme of distillery and festival events awaits our visitors. They will experience the very best that Scotch Whisky has to offer and learn why this global icon embodies the spirit of Scotland."
Marie Christie Homecoming Scotland 2009 Project Director said: "Scotch Whisky is a unique aspect of Scotland's rich culture and heritage which is celebrated across the world. Showcasing it through the Homecoming festivities provides us an opportunity to promote some of the country's most distinctive communities and regions through a lively programme of activity."