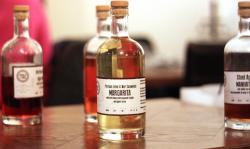 Never one to shy away from experimenting with flavours, contemporary food & drink emporium World of Zing has turned to the most peculiar of ingredients for the latest addition to its bottled cocktail line-up – the Persian Lime & Nori Seaweed Margarita.
The cocktail starts off as a blend of award-winning Ocho Blanco and Reposado Tequilas and agave syrup.  This is then mixed with a Dried Persian Lime macerate to provide musky and lively sherbet-like citrus notes before a short infusion with Japanese Nori Seaweed adds a touch of sea-saltiness for a literally mouth-watering sensation.  Before being bottled, the cocktail is rested for around 7 days to ensure the ingredients have perfectly married.
The unique experience is completed by adding one of World of Zing's Flavoured Salts along the rim of the glass.  There are 10 flavours to choose from, all made with a base of the finest La Baleine Sea Salt, including floral Rose; tangy Mexican Cactus; lively Coconut & Lime; and an Applewood Smoked variety for those after a smoky touch.  
Crafted in small batches in East London using the finest spirits, each cocktail is bottled, labelled and dated, giving each consumer a completely unique experience.  The Persian Lime & Nori Margarita joins the rest of World of Zing's Aged & Batched cocktail range that also includes:
Bordeaux Wine Cask Aged Negroni with Serenity Bitters & Tanqueray Gin
Steel Aged Manhattan with Anaesthetic Brandy, Euphoric Bitters and Bulleit Rye Whisky
Blackberry & Tamarind Spiced Rum Punch with Honey, Chamomile and Pink Pigeon Rum