Specialist food & drink retailer, World of Zing, is showcasing its unique approach to spice, cocktails and all things nice with an immersive bar and art gallery experience during the Southbank Alchemy Festival: 15-25 May
The event includes:
World of Zing Bar, Gallery & Spice Emporium, 15-25 May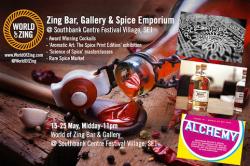 Free Entry!
Visitors to the bar will enjoy World of Zing's award-winning range of barrel-aged and batched cocktails made using some truly exciting and thought-provoking ingredients, including a Blackberry & Tamarind Spiced Rum Punch and Persian Lime & Nori Seaweed Margarita, as well as a selection of Indian soft drinks, including Thums Up and Limca.  Visitors will also be able to explore the huge array of rare spices that World of Zing is known for.
www.worldofzing.com/world-of-zing-bar-gallery-spice-emporium/
'Aromatic Art – The Spice Edition' Exhibition, 15-25 May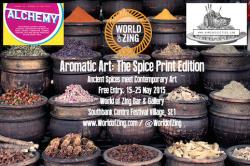 Free Entry!
The venue will feature'Aromatic Art: The Spice Print Edition' – the UK's first immersive spiced-based art exhibition.  Working with award winning artist and food historian Tasha Marks (AVM Curiosities), the gallery will feature multi-sensory prints made using some of the world's most exciting spices that provide both visual and aromatic inspiration.
www.worldofzing.com/aromatic-art-the-spice-print-edition
'Let it Burn – The Science of Spices' Masterclass, 20 and 21 May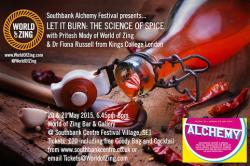 £20 a ticket
World of Zing Bar & Gallery will also host'Let It Burn – The Science of Spice' with Dr Fiona Russell, a biomedical scientist and leading expert on the science of chillies at King's College London and Pritesh Mody, founder of World of Zing.  The sessions will look to answer all of your'burning' questions around chillies and their effects on our bodies.  Tickets are £20.