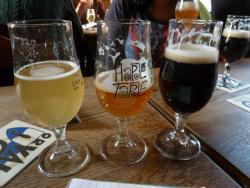 At the end of this month, the medieval university city of Leuven just outside Brussels hosts the mammoth Zythos Beer festival. The weekend of 28-29 April 2012 will see more than 100 Belgian brewers present 400 different beers in the hometown of Stella Artois.
But it won't just be the unfortunately-named 'wife-beater" on show – a name, incidentally, that the Belgians, whose beer frequently hits the 10% alcohol mark – do not understand when ours is comparatively weak. 'Perhaps the English should stick to tea," one brochure remarks.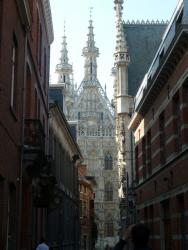 Beers in Belgium are almost twice the strength of beer in the UK, the average being around 7%. When I asked for a light beer in one bar in the Oude Market, the beerman suggested a 6% Palm beer because, 'it's what my grandma drinks". Like thanks, young dude.
Leuven has the Little and Large of brewers within its spectacularly Gothic and beautiful city. It's home to both the biggest brewery in the world, AB Inbev which ranks Stella Artois and Leffe among its stable, and a tiny, artisanal brewery named Domus, both of which will throw open their doors to visitors during Zythos.
And why 'Zythos"? The Greek word means beer, zythology being the study of beers. Beer – as I was told frequently on the trip – was invented in 6000 BC by the Sumerians in what is now modern day Iraq, and was offered as an ode to the Sumerian goddess. Then, in the Middle Ages, everyone, from London to Leuven, drank week beer, brewed by alewives, because the water was so rancid.
There is a youthful exuberance in Leuven, the city where 40,000 students descend during term time. But there was a sombre mood across the city the day we visited – seven of the children from the recent Belgian coach crash were from Leuven and were having their funerals that day.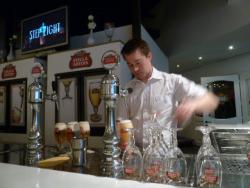 The Prime Minister was visiting and TV cameras were everywhere around the small market square and city centre. Outside the cathedrals were piles of while lilies and seas of red candles.
However, this did not altogether subdue spirits. While weekends are quiet because the students return home to their parents, their big Saturday is Thursday night, the day we'd visited. Out at the Oude Markt – or old market – which they say is the longest counter of bars in Europe, there was a fuzzy buzz, mainly from excitable teenagers.
Hormonal, healthy-looking long-limbed Belgian students wobbled and span around drunk, narrowly missing pedestrians and doing wheelies all night. In other places, kids were playing football at midnight in university floodlit pitches.
There were also shebeen-like cafes off the cobbled streets with windows that opened into bars. This seemed a very relaxed city.
One of the students' favourite haunts is the Domus artisanal brewery . The tiny brewery is built from converted medieval student residences but has only been operating for 26 years. 'We don't do this for economic reasons," says the brewer, 'we do it to save our culture and to attract the tourists".
Domus has two house beers, the Con Domus, a sharp and bitter pils and the student's favourite, and Nostra Domus – a bit like Hoegaarden. I found the Con Domus too bitter but it was much more tolerable when cut with a food pairing of smoked herring and Belgian endive.
In winter they brew a dark Christmas ale called Nen Engel, part of the 30,000 litres they brew each year. But their beer is only consumed locally apart from when the Zythos beer festival is on.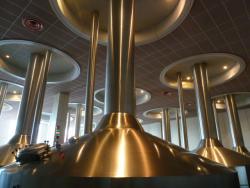 Lambic beer is very popular in this area and is made from spontaneous fermentation which, intriguingly, uses wild, local yeast that simply finds its way into the open vessels of wort – the sugary malty liquid before fermentation. Lambic beers, such as Gueuze or Kriek, are sour and definitely an acquired taste. Until 1700 people drank lambic beer around here, apparently.
One that we tried, our guide told us, was meant to smell sour, 'like sweaty socks or hot steamy sex" as we discretely replaced our glasses on the table. However, the pressure to please the locals was intense so we swallowed our English prudery and had a swig. And gosh it was sour. Very, very sour like a tub of lemons, flat like old lemonade. But it grew on me and became one of my favourites although I was hard-pressed to sense its carnal quality.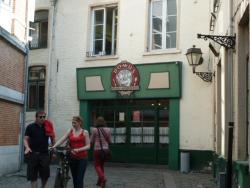 Another small brewery that uses spontaneous fermentation is Oude Beersel, 10km from Brussels, . It brews a wonderful Oude Kriek, a ruby red 6.5% lambic beer made with sour cherries. Old Beersel saw a 40% increase in production last year. It uses 100-year old chestnut and oak barrels from the Cote de Rhone.
At the other end of the scale is the Stella brewery of AB Inbev, a gigantic red building, reminscent of the British Library, with a huge complex of warehouses, carparks and crates brimming with bottles of Leffe. There was a lovely smell of hoppy worts wafting past as we ducked the countless lorries and trucks. The place had 648 employees at last count and a truck loaded with beers leaves every six minutes.
There are 80 fermentation tanks at the Stella brewery but it is trying to be environmentally-friendly despite its size. Its target this year is to use 3.5 litres of water to brew one litre of beer compared to its seven litres recently. They're even able to design the UK bottle narrower to save glass.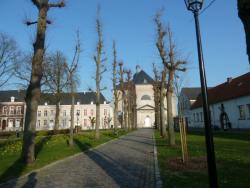 During our stay, we sampled some other lovely beers – a 8.2% Leffe, caramelly, hot and spicy and a Dutch – OK yes, not Belgian but they all speak Dutch here – Hertog Jan Grand Prestige at a grand old 10% – the Dutch have this as a Christmas drink. It had a very spiky taste that capsized to a point on the tongue.
But obviously, there's other things to do in this little city apart from beer, malt and hops imbibing. We also visited the new, white M-Museum Leuven, a glitzy affair. Some of its paintings document the culinary history of Leuven, detailing its fish market, beer production and orgiastic feasts.
Or you can visit its abbeys; Park Abbey on the outskirts was peaceful with some pretty fishponds and a scary row of paintings of monks along its 17th century cloisters.
For beer lovers, Leuven later this month promises an exciting showcase of much more than the conventional Stella and Leffe that we associate with Belgian beers, hot steamy sex and sour lambic notwithstanding.
---
For further information about visiting Leuven, please contact Tourism Flanders-Brussels on 0207 307 7738 (Live Operator Line, Mon-Fri) or visit www.visitflanders.co.uk for more details.
RECIPE
Flemish stew
* Serves: 4
* Prep time: 5
* Cooking time: 120 minutes
Ingredients
• 1 kg stewing steak in chunks
• 50 g butter or margarine
• cloves
• bay leaves
• thyme
• salt and pepper
• 2 finely chopped onions
• 1 slice of bread
• mustard