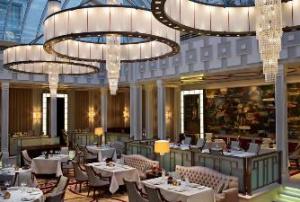 Can you eat at a high level and still stay healthy? From the look of most restaurant critics the answer is an emphatic no, the men so fat of chin they've given up shaving out of fear of cutting their own throats. Anita Pati has no desire to end up like that so she was happy to hurry along to Apsley's to try Michelin Star Heinz Beck's healthy summer tasting menu
When the lights dimmed, we were on a 1920s cruise ship of twinkling gilt-edged mirrors. Swing and jazz drifted from the corner orchestra. Twins and python-swallowers teased the soft-chinned, gin-gasping crowd.
Then our eyes focused and we were in opulent Apsleys, Heinz Beck's Michelin-starred restaurant. And it was Hyde Park Corner on a rainy Monday night. Luckily, we were here to try his new tasting menu, being marketed as a healthier, lighter style of summer cooking.
The PR bumph says Mr Beck has conducted 'numerous studies' as to how the removal of butter, flour, cream and animal fat will not affect food quality.
'Beck's dishes are designed to ensure that the body's insulin levels stay within recommended levels rather than adding excess sugars and carbohydrate which create harmful peaks and troughs,' says the blurb. The dishes are available now as a tasting menu at £79 for seven courses, and also a la carte menu of different dishes.
So we're here, drinking Krug, quite happy to try and quite cynical of healthy Michelin that works.
But already our breads, including a crispy, papery one like a poppadum, were lovely in the excellent grassy olive oil. It was also amusing to scoff them then stopwatch the speed with which a waiter would bound out to replenish the basket.
Putting childish games aside, we started with scallop carpaccio, peas and artichoke vinaigrette. We loved this – a space age broth of pearly bubbles with mossy, nostalgic peas in a creamy wash.
The herbal infusion with tuna tartare and green tea sorbet was interesting, the point where Mr Beck is tilting you towards his scientific experiments (not all work, of which more later). You poured the deliciously herby infusion – a light vegetable soup – around the too salty tuna tartare to form a moat, then ducked and dived with your spoon.
Apart from the salty hiccup, the herbal infusion was so light to be almost a ghost on the palate – fragrant, basilly. The accompanying 2008 Pinot Nero, Abbazia di Novacella, Alto Adige, Italy tasted as sharp as diamond and cleansed some of the salt away.
Then arrived ricotta tortellini with fava beans. This, while fine, was a bit like what I could rustle up and was the weakest link. The accompanying 2009 Verdejo, Jose Pariente, Rueda, Spain, was very good and lemony, however.
Langoustine cannolo with aubergine came with Campari tapioca pearls paired with our favourite wine – a 2008 Falanghina, Vesevo, Campania, Italy. But the pastry was bitter, burnt and as such, spoiled the dish. Our palates were saved by the skin of their tongues by the wine, which tasted of amaretto and bananas – quite tropically suited to leech the flavour from the bitterness.
Fillet of sole with tomato and basil sounded a bit boring. What I thought was a pile of parmesan turned out to be a pile of nitrogen cold snow which, on your fork, was to be combined with the warm tomato coulis. This cameo, in a seven-course taster of simplicity, seemed a little analogous and didn't work. The sauce also tasted of Becked beans – nice one Heinz
Lamb with Mediterranean vegetables was perfunctory though the meat medallion was nicely pink with a chewy toffee consistency.
We finished with an apricot jelly with bergamot ice cream. The bergamot was spectacular like sherbet orange with bits of aniseed and orange, amazingly light but spoiled by the apricot jelly that looked like the contents of a chemistry lesson Petri dish – Heinz's science again.
But for once, after such a prolonged menu, we didn't feel stuffed. We did indeed feel light and airy and despite a few raspberries, this was a slick and buff tasty meal.
With little of the food fried, the flavours were fresh and focused. It's obviously pretty pricey, especially for a Monday night, but if you're lucky you might see a python swallower.
The Lanesborough,
London, SW1X 7TA