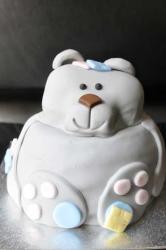 There was a bit of a collective gasp in the office when the bear's head came off. Despite the editor's much-repeated request for someone, somewhere to get him a Panda to eat before he dies, we're mostly a lily-livered lot. Taking a bread knife to Mr Patches was not something anyone really wanted to watch except through fingers.
Kids' birthday cakes have to be three things – fancy, sweet and sponge. Small people aren't demanding or discerning but they do know what they like. Mr Patches, one of Asda's range of 3D cakes certainly met all the criteria and then some.
We washed ours down with tea, but of course the sommelier would recommend orange squash with added E numbers as the ideal pairing for the dish. This can then be followed by running around the office breaking things, throwing a tantrum and having to go to bed early.
Charlotte Gornall from Asda's cake team says, 'Our research with mums showed that kids' parties are one of the biggest events of the year and there is real pressure to have the best cake. Not all mums have time to create something from scratch so we developed this first-to-market range of fab cakes to suit all parties whether they are thrown for girls, boys or even granddads!"
3D cakes give mums an alternative to the usual flat, rectangular cakes as they are hand-crafted into specific designs that their name represents. They contain No Artificial Flavours and No Artificial Colours

The star of the range is a Cheeky Monkey cake, covered in chocolate curls, with a rich chocolate sponge filling. Holding a banana, this cheeky chappy scored a thumbs up from big kids and small kids alike during Chosen by You testing.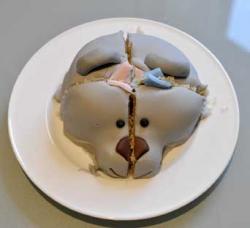 Asda's range of 3D celebration cakes are on shelf now
Merry Go Round £16
Sweetie Express £15
Cheeky Monkey £15
Garden Shed £15
Enchanted Fairy £15
Patches (teddy bear design) £13
Farmyard Friends £12