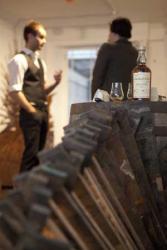 Bored of the 'pop up' concept? Me too. They are about as exciting as a punch in the head. Fortunately, Balvenie is calling its new pop up shop in Covent Garden a whisky den and anything with the word 'den' in is always going to go down well with a boy like me – like something those kids in Swallows and Amazons might have built in their back garden. Hell, it's something I might have built when I were a nipper.
And it does have a little air of mystery. I almost walked past the discreet entrance as I made my way down into Covent Garden. From the outside it looks like any other shop in this part of town. Inside though, it's a bit different. In a corner of the room, beneath some wires, is a garish pink and yellow under the new white paint, a little reminder of the café that used to be here before the shop was gutted and redesigned. Now there are installations that could lead you to believe you'd walked into an art exhibition, various odds and ends all made from old whisky barrels.
In one corner of the first room is a bar made from barrels where you're welcome to buy a wee dram while you root around the rest of the two-floored den. Rare whiskies as well as the more commonplace of the Balvenie range, from Speyside in the Scottish Highlands, are on offer to the public.
Having opened on May 9, it's 'evolved' over the weeks, with student artists continually changing the in-Den art installations. Downstairs, when we went, was a floor maltings, with barley spread across the room to show how the grains are turned in the distillery, while in another corner an artist was piecing together a barrel lamp shade. Behind her were tables and chairs, made from barrels again, to relax on while you taste what the Balvenie has to offer.
And it's not just pretty to look at. Experts will happily talk you through tastings, the making of the whiskies and give visitors the chance to taste the deconstructed parts of whisky blends. The Den has also held tutored whisky tastings, designed to teach whisky explorers the techniques of nosing and tasting whisky as well as giving enthusiasts an insight into what makes The Balvenie special. The distillery, for instance, is the only one still growing its own barley while it also employs traditional coopers to tend all the casks and a coppersmith to maintain the stills.
With free entry, a location that's a wee bit different, whisky tastings and a fascinating story behind the product, I could probably get used to this pop up business.
The Balvenie Whisky Den on Tavistock Street, Covent Garden is free to enter and open daily from 1pm until 8pm until June 6. The last of a series of tutored whisky tastings will take place this Saturday, June 4. Visit www.thebalvenie.com for more information.