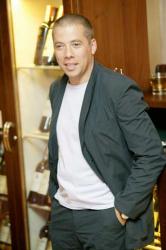 Novikov Restaurant & Bar, which is set to open in London this summer, has appointed chef Stefano Steccas to head up the kitchens of its Italian Room.
Known for his simple and tasteful regional Italian dishes, Stecca arrives from Osteria Stecca – the elegant eatery set in the glossy suburbs of St John's Wood – where as chef-patron he garnered rave reviews. The menu is still to be finalised, but dishes will be of the calibre of signature fare such as Risotto with Clams, Fennel Herbs, Lemon Zest & Parsley and Wood Roasted Three Week Aged Marinated T-bone Steak with Global Artichoke & Roast Potato.
Stecca, who has four years experience at the Brunello in the Baglioni hotel, Kensington under his belt, was born in Rimini, Romagna. He began his career in small restaurants typical of the region, progressing to the two Michelin star San Domenico in Imola, widely regarded as one of Italy's finest. Moving to London, he spent several years working with Giorgio Locatelli at Zafferano in Knightsbridge before being appointed Head Chef at Rosmarino.
The Novikov Resaurant & Bar will comprise of two restaurants – the Italian Room and the Asian Room – together with a standalone Lounge Bar, and is the first restaurant outside Russia for the Novikov Restaurant Group.