Valet parking can be a bit of a concern. There's the worry that you may have left something embarrassing, possibly incriminating, on the dash, and that your brand and perceived value of car may elicit a sneer from the man who slides into the driving seat to take it away.
No such worries at Feversham Arms; here you're discreetly relieved of your car keys by friendly Yorkshire faces, your bags are whisked up to your room, and almost without knowing it you're smoothly checking in.
A sense of calm, competent charm is exuded by the Feversham Arms. The village of Helmsley on the edge of the North Yorkshire moors is picture book perfect. The front is an old inn dating from at least 1855, expanded into the terraced cottages alongside. At the rear are modern rooms and the Verbena spa complex and an outside swimming pool kept at a comfy 31 degrees
A large range of suites are available, some with wood-burning stoves. You can wander through your French windows to go for a dip and then swiftly, muffled up in your cosy dressing gown, scamper back to your room. Out here you can also take afternoon tea, a jacuzzi or, whisper it quietly, even have a sneaky cigarette in the designated area.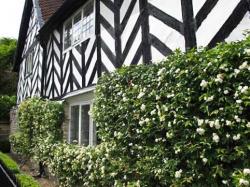 Our large and luxurious three roomed looks out over the wobbly tiled tops of the old part of the hotel and further out onto the surrounding hills. It's lovely.
This section of the hotel has been designed to feel warm and cosy, whilst being modern in all the important ways. This includes two B&O televisions in the rooms with built in DVD players (and a selection box of films) as well as Bose Dock for iPod or iPhone. Naturally it has comprehensive climate control and free wi-fi.
Other rooms, created in the old terraced cottages, are completely different. In those the romantic character has been lovingly retained; there are small windows, low beams, uneven floors and lots of wood and plaster on display. Without being cramped they are compact and charming and still manage to be air-conditioned and with all amenities. It's your choice how you want your break to be, the hotel has just created the options.
And the food option is very good. Chris Staines is the Food and Beverage Director and many a Londoner will remember him as Head Chef at the Michelin starred Foliage. A Yorkshireman himself Chris has made it his mission to create equally fine dining at the Feversham Arms with the added benefit of superb local produce that he is hands-on in sourcing and quality controlling.
Working with chef Simon Kelly, himself a man with an impressive culinary CV, Chris has made the luxury of a five course tasting menu affordable as well as an interesting a la carte menu too.
Before dining a drink is always in order and the 'Fev' has its bar and lounge in the original inn part of the building – cue large ancient fireplaces, enormous sofas to sink into and plenty of books and magazines on hand..
The dining room, a large conservatory is formal without being oppressive and the staff are smart without being snobby. The menu is, as expected, a creative affair with a Poached pigeon breast, semi-dried grapes, almonds, celeriac starter that made good use of the game bird, perfectly poached so as to be properly rare and moist, with the texture play of nuts and the grapes a good match.
A main of Slow cooked Old Spot pork belly, truffle potato, pineapple, scallops and sage did the pig proud, the restaurant sources pork from the renowned rare breed and ethical local pig farmer Taste Tradition. The belly has the perfect depth of flavour that makes this dish, of what was once the overlooked cut, so comforting. Any hint of fat is cut by the pineapple perfectly and the whiff of sage is just enough.
It's a menu you could come back to again, there's plenty to tempt and the tasting menu is clearly a bargain at £45.
Next morning we ate a great breakfast. Fabulous local sausages and bacon, a divine smoked haddock with golden eggs poached perfectly and the option of a ciabatta bacon butty which sounded just the thing.
Fuelled by this fine start we hit Helmlsey and enjoyed the quiet little lanes freshened by the air coming on off the nearby moors. Small shops here repay poking about in, the flower decked houses beg you to photograph them and the churchyard is calm and lovely. From Helmsley you can jump into your car and explore the moors or drive further afield. Every direction is tempting.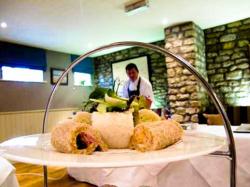 Returning that afternoon we tried a taste of the Fev tea. No curling cucumber sandwiches here, just treat after freshly made treat. There were Dorset Crab sandwiches, crème fraiche and coriander, egg mayonnaise and cress, Yorkshire ham with apple chutney, Smoked salmon with horseradish and cucumber all served in rolled bread. Absolutely delicious with the Jing teas.
Patisseries too are home made – stylish macaroons, Chocolate and raspberry pots, a Pistachio 'Turf Roll', a Strawberry jelly with elderflower panna cotta and Cherry mousse sponge cake. And of course there are Scones with clotted cream, served with strawberry and passion fruit jam and home made lemon curd.It's a massive marvellous feast and, at £26.50 a person well worth it. Skip lunch to make sure you have room for it, or go for a long walk to be properly hungry.
For us it was time to summon the car back from where it had been cleverly concealed and reluctantly head back down the motorway to London.
With luxury on tap, healthy spa and delicious food in one of the most charming spots in North Yorkshire, the Feversham Arms is just the place for foodies to make a weekend break for.
The Feversham Arms Hotel & Verbena Spa "AA Hotel of the Year 2009 – 2010" England
Prices from £99pppn inclusive of Dinner, Bed & Breakfast
Feversham Arms Hotel,
Helmsley,
North Yorkshire,
YO62 5AG
The hotel can arrange airport and train transfer service. With links from Kings Cross to York in under 2 hours and Edinburgh to York in 2hr 30m.