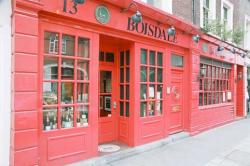 Shocking pink is the colour of Boisdale of Belgravia's exterior, the colour that hereditary Earl's choose for their trousers when ambling about their estates. Odd how the upper classes have always maintained that it's somehow common to dress well or indeed to even buy new clothes.
Boisdale is determinedly crusty, a bastion of old school values in an era when such things are regarded as unhelpful in our exciting classless and multi-cultural society.
They support smoking too at Boisdale, so all in all they probably won't be getting Restaurant of the Month award from The Guardian any time soon.
It's the place to for a meal that reminds one of schooldays in a good way though, and it's the place to go for whiskey and other classic spirits. Tonight's turnout is in honour of Boisdale's new cocktail list.
Four top luxury spirits from the Reserve Brands Group – Ron Zacapa, Ketel One vodka, Tanqueray gin and Don Julio tequila – joined forces with Boisdale mixologists for one night only to prepare a classic range of cocktails with the connoisseur in mind.
First we had Bramble made with 'the bartenders' choice" of gin, Tanqueray, served alongside Cosmopolitans mixed with handcrafted multi-award winning Ketel One, Mojitos featuring Zacapa rum and Margaritas expertly shaken with Don Julio tequila renowned for its 100% blue agave content and artisanal production methods. The cocktails kept coming and we kept on drinking.
Barrie Wilson, Tanqueray and Tanqueray 10 brand ambassador hosted it all very amicably and gave us some cocktail recipes too.
A vast range of cocktails can now be sampled at Boisdale of Belgravia so if you're feeling thirsty and sophisticated, put down your pint and head on over.
BRAMBLE
Ingredients:
50ml Tanqueray gin
15ml Crème de Mûre
12.5ml fresh lemon juice
10ml sugar syrup
5-6 blackberries
Glass: Old Fashioned
Garnish: Blackberries on a toothpick (unused)
Preparation:
Fill a glass with crushed ice. Add gin, lemon juice, sugar syrup and stir. Lace with Crème de Mûre and garnish with blackberries (when in season)
MARGARITA
Ingredients:
50ml Don Julio Reposado tequila
25ml Cointreau
15ml lime juice
Glass: Martini
Garnish: Lime slice or lime twist
and salt on the ridge
Preparation:
Prepare the cocktail glass by rubbing lime juice all the way
around the edge of the glass and place on a saucer of salt to
achieve the salted rim effect. Then add tequila, Cointreau
and the lime juice into a cocktail shaker full of ice and shake
well together. Strain into a Martini glass.
COSMOPOLITAN
Ingredients:
50ml Ketel One Citroen vodka
25ml Cointreau
80ml Cranberry juice
5ml lime juice
Glass: Martini
Garnish: Flamed orange zest twist
Preparation:
In a shaker pour Ketel One Citroen vodka, Cointreau, lime
and cranberry juice over ice. Shake all the ingredients and
strain into a chilled Martini glass. Flame the orange peel
with a lighter and add to the drink.