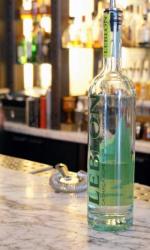 The ambassador's receptions are noted in society for their host's exquisite taste, that captivates his guests. 'Cachaça' gasped one bespectacled man as the samples came round; 'délicieux' said a blonde French woman; 'excelente' declared a presumably Spanish bloke in a grey suit. I peered lovingly at my glass as Rodrigo Azeredo walked past and uttered almost hysterically, 'monsieur, with this cachaça you are really spoiling us!' He nodded politely and replied, 'cheers, but I'm not French and can someone turn that bloody awful music off?'
Our introduction aside, Minister Rodrigo Azeredo from the Brazilian Embassy was the perfect host for an afternoon of cachaça tasting in the Artesian bar at The Langham Hotel. According to him, September 13 is officially 'Brazilian Cachaça Day' and, with a view to giving the spirit a national identity like the one enjoyed by tequila, there were 15 of Brazil's best cachaça producers present, offering samples and signature cocktails to try.
Cachaça is rather like rum but is made from sugarcane juice rather than molasses. It is most famous as the base for the Caipirinha cocktail and Brazil produces around 1.2 billion litres of the stuff annually. Some of those litres were lying around in shiny bottles on Monday and the task of turning them into the signature cocktails was given to Nick Wykes from IPBartenders.
Though cachaça is often thought of as a harsher version of rum, the top quality brands are soft and warm and make for some great cocktails. Though Nick had at least bittersweet feelings about having to grind the main ingredient to a paste with a pestle & mortar, the Cashew Batida dreamt up by the Leblon brand was particularly innovative and surprisingly enjoyable. Another batida cocktail, this time with cherry brandy and dark cacao brought out the warm cherry notes in the Abehla Silver cachaça.
By the time the sixteenth cocktail came round and I saw it was 150ml of spirit mixed with hot chocolate and topped with squirty cream, I decided that it was not the 'Chocolate Dream' it claimed to be and that the ambassador was, perhaps, genuinely spoiling us now. With that I wished everyone a Happy Cachaça Day and sambaed my way through the hotel lobby, out into some distinctly unBrazilian drizzle.