This dish is a quick nutritious, filling and really satisfying one pot meal that's perfect as a weekday dinner. Anjum suggests aubergines, broccoli, peas or even mango and lychees if you like fruitiness in your curries – but you can use whatever you have at home.
Anjum's top tip for making the curry: 'The staple food in this dish is Clawson Paneer cheese, but if you buy a good quality red curry paste and coconut milk, the rest is easy. You can also make the curry without the noodles and serve with Jasmine rice."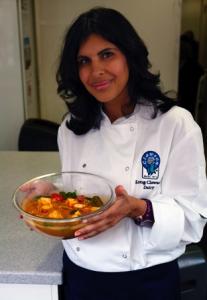 Serves 3-4
Ingredients
3 tbs. vegetable oil
1 medium onion, finely chopped
1 packet Clawson Paneer cheese, boiled for 20 minutes and cut into 1½cm cubes
3 tbs. red Thai curry paste
400ml creamy coconut milk
8 baby tomatoes, halved
2¼ tsp. sugar or to taste
3 fresh or dried Kaffir lime leaves
1½-13/4 tsp. lime/lemon juice or to taste
Good handful mange tout, washed
150g rice or egg-noodles, cooked according to packet instructions
1-2 tbs. coconut cream (optional for added richness)
Handful of fresh coriander or Thai Holy Basil leaves
Heat the oil in a large non-stick saucepan. Add the onion and sauté until golden. Add the red Thai paste and stir-fry for 1 minute. Add the paneer, coconut milk, tomatoes, sugar and lime leaves. Bring to a boil and simmer for 5 minutes.
Boil your noodles according to the packet instructions or until just done (I use the same water as the paneer). Drain and reserve 100ml of the water.
Add the noodles to your pot along with your beans, lemon juice, basil or coriander and the coconut cream, if using. Add most of the reserved water and simmer for another minute.
Taste and adjust seasoning, sugar and lemon juice to taste, add a little more water if you like the curry thinner, and serve with some extra lime/lemon wedges on the side.