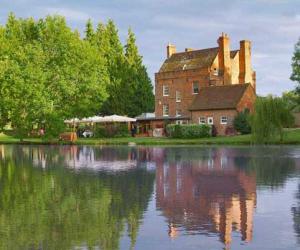 Auberge du Lac, Hertfordshire's only Michelin-starred destination restaurant situated on the Brocket Hall estate, is teaming up with one of Italy's leading wine producers to launch the first of a series of extraordinary wine tasting events later this year.
The restaurant, which is famed not only for its haute cuisine but also for its exceptional wine cellar of 750 bins, will combine a four course culinary extravaganza twining the finest Italian cuisine created by executive chef Phil Thompson with wines from Tuscany and Umbria supplied by the internationally-acclaimed Villa Antinori.
Auberge du Lac's chef sommelier, Laurent Tavernier who has worked at the best Michelin-starred establishments in the world, including the Waterside, Le Moulin de Mougins and La Palme d'Or at the Hotel Martinez in Cannes is responsible for bringing the two parties together to create the first of several evenings designed to please connoisseurs and gastronomes alike
Michelin-starred Auberge du Lac is set within one of the most beautiful country estates in England, and is positioned waterside, with magnificent views over a tranquil lake, extensive parkland and the prestigious Brocket Hall itself. Thompson, who retained his first Michelin star for the second year running in 2010, has taken the restaurant from strength to strength. Now a destination restaurant, residential culinary breaks with accommodation in the luxurious Melbourne Lodge are also available on the 543 acre country estate.
And for those who would like to taste the Auberge experience, a fixed priced dinner menu known as-The Mid Week Treat is available on Tuesday, Wednesday and Thursday evenings and includes a 3 course menu and canapés.