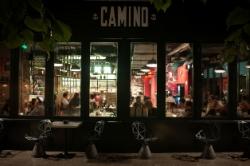 Camino, Puerto Del Canario, Richard Bigg's latest venture and sister Restaurant/Bar to Camino in the Regent Quarter, in London's King's Cross, will be similarly serving authentic Spanish cuisine and wines. Camino, Puerto Del Canario recently opened its doors to customers in a soft opening, before the official opening on 15th September. Soft openings allow a new team to train on the job, serving paying customers. Reflecting this training period, Camino are offering a 25% discount off the total bill to all customers until 14th September and during this time customers will be invited to complete feedback forms which will help both staff and management ensure that they give great service to them.
This new venue is substantial, its double fronted facade has a terrace in front of it and shading from trees planted beyond that. Camino, Puerto Del Canario is incredibly close to Canary Wharf Pier so customers who fancy travelling to the destination from Central London can use the quieter less stressful Thames Clipper for their journey, should they wish. This new Bar/Restaurant boasts excellent views of the Thames riverbank in both directions from the restaurant and its terrace across the uncluttered pedestrian haven that has been created at Westferry Circus.
In preparation for their opening, Richard Bigg and his Chef Nacho del Campo ran training sessions for the team that will be running Camino, Puerto Del Canario and I was invited to two of these, those introducing the team to the range of red wines that will be on offer and to the food that they will be serving to customers.
So, with some 20 or so wines lined up on the bar at Bar Pepito his team and I sat in a classroom style seating arrangement we proceeded to work our way through each one of them, discussing the qualities of each as we tasted them. It was a good natured interactive session and very enjoyable. At the end Richard asked us all to choose our favourite three in order to determine which were the most popular. My favourites didn't necessarily make the top of the popularity list, but they were: the only rose we tried Cillar de Silos which had great strawberry notes on the nose and on the palate, with a tangy sharpness and great length of flavour, well worth its price tag of £25.50 per bottle. Next was the Petalos, Descendientes de Palacios, a bold red with a spicy fruity bouquet, great black cherry on the palate, a little acidity, some peppery heat and a tannic edge in its finish gave this wine excellent character, it is very well priced at £30 per bottle. The last of my three was the Priorat Pasanau, Finca La Planeta, which had an edgy fruity nose, but on the palate there were deep intense fresh dark fruit flavours and some spice, a little more expensive than the others at £46 per bottle, but a good price nevertheless. The wines on the Camino lists are priced upwards from £14 per bottle and there is a good range.
We then went on to the menu tasting and I have to say that the dishes just kept arriving, it would be impossible to describe each one, but among my favourites were the 36 month cured Iberico ham which had amazing depth of flavour, the grilled octopus , that has a surprisingly meaty texture and great flavour, the tender skewers of chicken and of lamb, the king prawns with alioli and lemon, which tasted great on their own but were enhanced by the dressings, the prawns cooked in chilli, garlic and white wine were also excellent. There's a range of 5 cheeses on the menu, my favourite was the Boffard.
Camino's head chef sources the authentic cured meats cheeses and other produce on the menu from suppliers in Spain, fresh steaks from Scotland (very tasty and tender they were too) and fresh fish from Cornwall. All the food we sampled was extremely good.
If the food and the ambience is anything like the original Camino in King's Cross, Camino, Puerto Del Canario looks to be a great addition to the dining scene in Canary Wharf, providing customers with authentic Spanish food and wines in an idyllic location. It's one to investigate, definitely.
Camino, Puerto Del Canario, 28 Westferry Circus, London, E14 8RR www.camino.uk.com