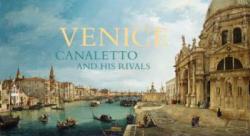 'Streets full of water, please advise'. The famous quote from Robert Benchley, telegrammed to his editor at The New Yorker on Benchley's arrival in Venice, is often held as a shining example of Benchley's brilliant wit. Well pardon me, but it's not exactly Oscar Wilde is it? It's not even Stephen Fry.
Canaletto knew what do to do when confronted by the beauty of Venice, he didn't make weak jokes, he painted it. Born in the city he made it his life's work to capture Venice on canvas. Many of his luminous paintings found their way back to England, purchased as fancy souvenirs by the wealthy on their Grand Tours. Even today, Canaletto prints turn up all over the UK, from council house to stately home.
At the National Gallery in London a major exhibition, Canaletto and his Rivals, is running until January 16th 2011. Bringing together around 60 major loans from public and private collections across Europe and North America, the exhibition highlights the rich variety of Venetian view painting and is a must see.
And at the same time, Oliver Peayton's National Gallery Café is running a Venetian menu. The menu includes starters of Sarde in Saor: Venetian style marinated sardines or Pasta e Fagioli white bean pasta and olive oil soup. Mains include Fegato alla Veneziana con Polenta: Veal liver and onions with polenta; Risi e Bisi: risotto with peas and Pasta alla Busara pasta with shellfish and fresh tomatoes and desserts such as Tiramisu and Dolada Latte Crudo, a 100 day old cheese normally only available in Italy.
The menu has been designed by Riccardo de Pra who comes from Veneto, where his family have owned a restaurant for four generations. Currently he is head chef of Dolada a fine Mayfair Italian.
Invited to try it, in the wonderfully atmospheric side area, the Sainsbury's Room, we can report that it's all rather authentic and really rather good value. £25 gets you three courses at lunchtime, while in the evening 2 courses with two different wines from the Venetian Masi Vineyards floats in at £28.
The sardines were enjoyable, especially as I don't like sardines normally, and the Risi e Bisi was well done; the rice creamy with central bite and the peas little bombs of fresh flavour. I even quite enjoyed the Veal liver, onions and polenta, even though it was basically a Venetian version of an average mid-week treat at our house – liver, onions and mash. I still don't think much of polenta though, but this was good enough to make me possibly reconsider the stuff as food and not just for hanging wallpaper.
Tiramisu? Well what's not to like about that? Nothing, it slips down like birthday cake at an 8 year old's party and the cheese is lovely. Almost a cheddar experience, crumbly and rich.
At these prices you can enjoy the Canaletto exhibition and eat an unusual but satisfying meal without pushing the gondola out so, it's well worth a punt we say. Beat that for wit Benchley!