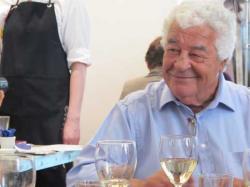 'An Italian would rather give away his wife than the location of his mushroom patch!' Antonio Carluccio roars with laughter and almost slaps his thigh as his face cracks open into a giant smile. The self-styled 'greedy Italian' is seated at a long table of around 20 happy people sharing an 'Italian feast' in the Smithfield branch of Carluccio's.
His cheerfulness is genuine and belies his years; he's now well into his seventies. Yet he looks mysteriously the same as he did when he first appeared on our TV screens in the 1980s. Hard to believe that the programme, Food and Drink, was pretty much the only food programme on TV at the time.
It must be because his hair hasn't changed a bit, still the same trademark white. 'Oh it went white when I was in my late 20's,' he says patting the top of his head. 'It's not thinning though!' and he roars with laughter again.
Antonio is on a schedule; he's hosting lunches at three of his restaurants. It's a chance for people to enjoy a classic Italian lunch – lots of people, lots of noise, lots of food – meet and chat with him and to get a signed copy of his new book 'Two Greedy Italians' written with Gennaro Contaldo at a discount price.
The book accompanies a TV series, as they always tend to do, which shows Antonio and Gennaro bickering , laughing and above all eating their way around Italy. It's a genial show and full of mouth-watering scenes of Italian beauty as well as food.
In front of us are plates and plates of anti pasti: hams, stuffed peppers, a rich chicken pate, giant olives and capers, an Italian take on steak tartar, salamis, toasted bruschettas, mozzarellas and more. There's enough for any number of greedy English people but Antonio is not eating much himself. 'I have to go for an operation on my leg,' he says. 'I injured it when I was a child doing the triple jump'. We look at him a bit sceptically, it's hard to imagine a youthful Antonio hop, skipping and jumping across a sports field.
It's hard to stop grazing on the anti pasti, which is what makes Italian food so great; the sense of sharing, of conviviality, of food as life. It's all so different from the Church of Food we seem to have constructed for ourselves here in London. Heads down, talk only in whispers and raise reverential gazes to Chef in His Kitchen.
Antonio is cheerfuly working the table; he rumbles up to everyone and is happy to have his photo taken and to chat. Wherever he is, that's where the laughter is coming from. He's not just doing the rounds; he's genuinely interested in people and what they have to say. He wants to have a good time even if he has to use a stick to get about owing to the gammy leg.
Bowls of spaghetti with mussels and prawns matched with Ventian Bertani Due Uve Bianco arrive. I'd have preferred vongole, but it doesn't really matter as the pasta is very much the star. The juice from the mussels has lubricated and flavoured the perfectly cooked pasta and tiny slivers of chilli – Italians love seasoning with dried chill- are dotted about in just the right amount.
It's a messy eat but that's how it should be, don't wear your best shirt to an Italian meal. We suck in spaghetti strands and slurp noisily, the mussel shells piling up fast. I drink Antonio's wine as he is not drinking himself today. I eat some more pasta and join in the general shouting and arm waving.
Dessert of ricotta and lemon tart. comes all too soon; a real Italian lunch would last until the sun set. Some Moscato D'Asti washes it down and I say goodbye to Antonio who is still leading the party in laughter. There's nothing greedy about Italians; they're just hungry for life.
Two Greedy Italians by Antonio Carluccio and Gennaro Contaldo contains over 100 recipes and is on sale at all Carluccio's caffès, good book shops across the UK, and available online at www.carluccios.com.
Carluccio's, 12 West Smithfield, London, EC1A 9JR

Carluccio's, arc, 24-26 Auction Street, Bury St. Edmunds, IP33 3FA
Carluccio's, Queen's Court, thecentre:mk, Milton Keynes, MK9 3ES