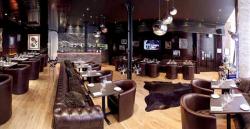 Girl stands on street corner, back-combing her boyfriend's quiff; her designer dog artfully peeing against a sleek 4×4 parked outside Shoreditch's restaurant-bar-club McQueen
It may sound like the story board for an advert, but this is the scene that greets me as I approach McQueen, an unlikely venue for a Voyer Cognac Masterclass I think as I walk in. Launched by Dezzi McCausland of white-décor Kingly Club fame, McQueen is clearly its darker, edgier East End sister.
I know precious little about Cognac, other than I like to warm a glass of it in my hands after a blow-out dinner, and that it's a lot more quaffable than brandy. I also know that it's never been de rigueur among people below a certain age.
So imagine my surprise to find myself sharing a leather banquette with half a dozen achingly trendy bartenders from London's hippest hotels and nightclubs – from Mahiki's tropical City sister, Kanaloa Club, to London's maddest Mexican bars.
However, as Voyer's Blend Master, Pierre Vaudon, introduces Voyer Cognac as the drink of choice 'for those who don't want to follow the crowd," our chosen location makes much more sense: Clearly Voyer is wanting to position itself in younger moneyed circles.
Calibre cognac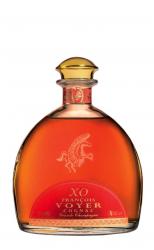 Unless you're a cognac connoisseur, you won't have heard of Cognacs François Voyer. This niche producer from Cognac's Grande Champagne region, turns out only 50,000 bottles a year. A drop in the cognac ocean for big-league labels Courvoisier, Hennessy and Remy Martin. But to compare them is to miss the point, because Voyer is for the discerning drinker who eschews mass-production for a family-run traditional method, aimed at the likes of revered cognac collector Michel Gillet. The Voyer brand is also served in top restaurants from Jules Vernes and Lucas Carton to Alain Ducasse.
Vaudon personally controls the blends and quality of all François Voyer cognacs. We sample four Cognacs, from a no-frills VS Francois Voyer (40%abv) to the mellower VSOP François Voyer (40%abv), to the silk-smooth 50-year old vintage Hors d'Age (43%abv), a mahogany elixir of cinnamon, mocha and cigar-impregnated leather armchairs. This one requires no water reduction during production, for lasting power in the barrel. If you have to ask how much it is for the bottle, you probably can't afford it. (Ok, seeing as you asked, we're probably talking around £600rrp).
But it's Voyer's multi-award-winning, 25-year old XO Gold (40% abv) bestseller that titillates my tastebuds with its delicate start then heady punch of peach and exotic fruit
I can see this one slipping extremely smoothly down the throats of 'the beautiful set" at the tropical-themed Kanaloa Club. It has a very slow reduction of just 1-2% a year, compared to the average cognac, which we learn evaporates at approximately a litre per hour – that's 2-3% per year of stock. What a waste! Enough to make a grown journalist weep in to her empty cognac glass. Vaudon tells us that it takes about one hour for the full spectrum of flavours to emerge from a good cognac, so langorous sipping is key. I'm afraid this one is too delicious to watch evaporate and I uncouthly finish it faster than road-runner on speed.
Pineau & cocktails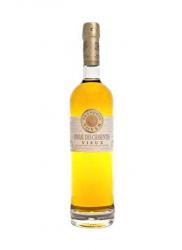 We also tried the Pineau des Charentes Vieux (17%abv) in blanc and rosé. Vastly drinkable on the rocks in summer, but the problem lies in the name: 'I can foresee customers confusing it with Pinot Noir and Pinot Grigio," says McQueen's head barman, John Leese. His favourite? His eyes mist over at the thought of stocking (and no doubt selling more than a bottle a year of) the exquisitely expensive Hors d'Age, of which there are just four vintages: 1948, 1958, 1960 and 1965.
And finally, Leese demonstrates Voyer's versatility with a trio of innovative cognac cocktails: 'Vino de Pinneau' is served in a wine glass and proves a summery alternative to rosé, featuring Voyer Pineau des Charentes Rouge and Sangiovese red wine with a dash of sugar and peach bitters. The cocktail short, 'Voyerism', however, has the bitter tang of whisky barrel bitters, which doesn't do it for me. My money's on 'Golden Belt', an outlandishly refreshing long cocktail of Voyer VSOP, fresh lemon juice and apricot brandy – in my case, the cocktail that launched a thousand sips.
I step out in to the balmy Shoreditch night. The photogenic media crowd have long since sauntered off, yet London has never looked so beautiful.