I have never drunk so much ginger beer in one sitting in my life. Even the waiters at Benares are barely concealing their mirth as they crack open yet another bottle of Crabbies to pour into my glass. 'Do you drink it yourself?' I ask one of them 'Oh no!' he replies, horrified, then mindful of the fact his boss Atul Kochhar head chef at this award winning Indian restaurant is lending his name to the product, quickly explains his defiant rejection. 'I am a Muslim!'
Of course, I forgot, Crabbies is actually an alcoholic ginger beer and so not suitable for minors or Muslims. At 4% though it won't send you on a mad drunken spree , I must have drunk about four bottles by now and, despite a small urge to burst into song, feel pretty fine if a little bloated from all the gas. In fact I can tell this is going to be ideal summer drinking with 'ice and a slice', refreshing, gentle and quite clearly ready to up against the undisputed big dog of youth drinking that is Magner's Cider.
It's a lucrative market to be in. Magner's pulled off a coup convincing us that cider could come from Ireland and what's more could be drunk over ice. What Magner's brand struggles with is winter drinking, when the idea of a long iced drink is less appealing to anyone but a masochist. Crabbies with its peculiar, nostalgic, ginger warmth should have no such problems.
Atul Kochhar genuinely likes the stuff, he tells us as he passes among the tables in his revamped fine dining restaurant in Berkeley Square. Ginger being an Asian as well a West Indian spice is perfectly suited to go with Indian foods and to prove it Atul has created some special dishes containing fresh ginger that can be made at home. Even better he's created them here for us to try.
Baked Salmon in a herb paste is stunning; visually the Coriander green coated fillet sits on layers of mandolin-thin sliced disks of beetroot, the contrast between the gentle cool crunch of the beetroot against the delicate flesh of the fish is excellent and there is warmth from fresh ginger and fire from subtle chillies. The ice cold Crabbies picks up the flavours and enhances them while cleansing the palate.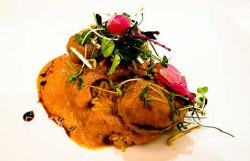 Spice coated lamb's rack is good to the last bit of chewed bone, the meat cooked perfectly pink and the spice mix crusting up to deliver both flavour and protection from the flames. A Mediterranean mix of feta, black olives and salad alongside works perfectly; the salty feta with its lemon dressing melding with the Asian spices.
Ginger spiked vegetable dumplings with tomato coulis seems very complicated on the recipe, although Atul assures us it's not. It is very good though, excellent for vegetarians.
And finally a dessert that the Famous Five could eat happily, a ginger beer crumble with ginger custard and cinnamon ice cream. Lovely comforting stuff and great washed down with (Burp, excuse me) ginger beer.
Given the choice of beer or ginger beer with an Indian meal, I'd genuinely go for the ginger ninja Crabbies every time.
Find Atul's recipes in pdf form by clicking here
Benares Restaurant. 12a Berkeley Square House, Berkeley Square, London, W1J 6BS