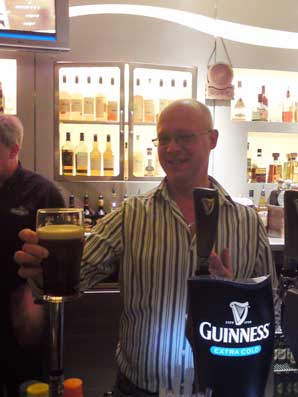 So who knew that one company, Diageo, were responsible for, or had an interest in, the production of such a wide range of alcoholic beverages that you wouldn't have to go anywhere else to achieve a well stocked bar? We were amazed at the products they have under their umbrella organisation, including more than 20 Scottish single malt whisky varieties, gins, vodkas, tequila and Baileys. They even have an interest in Moet and Chandon Champagne.
We were invited to their exclusive Geo Bar in the Diageo headquarters to sample two of their Irish products, the Bushmills whiskey range and of course, the different Guinness varieties on the run up to St Patrick's day, or as some of our Irish friends call it, Paddy's day, on 17 March. Clearly the chances of our getting through many of these without falling over in a heap were slim, but valiantly we went at it. So we kicked off with an 'Anything But' Old Fashioned, using Bushmills' award winning 1608 anniversary blend whiskey to build this simple cocktail over chunks of ice, using sugar, angostura bitters and orange zest in its production, a very pleasant drink, with a hint of orange, slightly lighter than when made with bourbon, but good just the same.
We had to try black velvet, which of course was good, lighter and fizzier than straight Guinness, but I think, on reflection, I'd rather have had its constituent parts, Guinness and Champagne in separate glasses. I tried all three Guinness products that they had on tap. Guinness Red, so called because when held up to the light it has a reddish brown colour and a similar density to bitter. This tasty variety is well worth trying if you see it on tap, particularly for those lager and bitter drinkers who want to try something more full bodied, but can't quite make the leap to the black stuff. I then poured myself a glass of ice cold Guinness, failing dismally to get a decent shamrock design in its head, but of course it was a perfect pint, who would expect anything else in the private bar at the headquarters of the production company? Having worked my way through that I had to try creating a shamrock again, having been assured it was easier to do on the head of the original Guinness, that's my excuse anyway. Well, let me tell you here and now, it wasn't, it looked worse than my first try, but as you might imagine, this pathetic attempt at decoration made no difference to my enjoyment of this second pint!
So, with Paddy's day coming up, why not get into the spirit, quite literally, and try these authentic Irish beverages? We can certainly recommend them.
akandpa