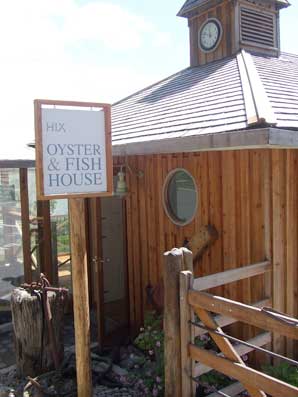 Each month HIX Oyster & Fish House in Lyme Regis will be welcoming some well-known faces from the world of food, art and literature to host a series of dinners and master classes.
These supper clubs and master classes give customers the chance to meet some of the UK's most celebrated chefs, artists and writers and discover the delights of the food which has made their reputation or find out more about their craft or area of expertise.
To find out more on all events or book your place please contact Jo Verberne on 01206 756388 or email jverberne@hixfoodetc.co.uk or visit our website at www.restaurantsetcltd.co.uk Prices range from £20-£50 per person.
Wednesday April 22nd – Lunch with Australia's favourite celebrity chef Bill Granger
Bill is well known for his sunny and joyful approach to cooking. His restaurants bills and bills2 in Sydney are hugely successful all over the world and this is a rare chance to catch him in the UK to sample his fantastic cooking. Bill will be cooking a three-course lunch from his new book Feed Me Now.
Price tbc signed copies of Bills books will also be available at a special price
Wednesday 24th June – Dinner by Mark Hix and a talk by Tracey Emin
Tracey Emin is one of Britain's most renowned artists, she won The Turner Prize in 1999 and represented Britain at the Venice Bienale in 2007. Tracey Emin's art is one of disclosure, using her life events as inspiration for works ranging from painting, drawing, video and installation, to photography, needlework and sculpture. Emin reveals her hopes, humiliations, failures and successes in candid and, at times, excoriating work that is frequently both tragic and humorous.
Wednesday 16th September – Master Class in Game with Ben Weatherall
Ben Weatherall farms and butchers award-winning meat and game in the Scottish Highlands – they supply whatever is best according to the seasons. Here you will learn about and taste the many types of game and get to eat various game dishes prepared by Mark Hix and his team.
Wednesday 8th October – Master Class in Tea with Henrietta Lovell of The Rare Tea Company.
The Rare Tea Company sources teas from small mountain tea gardens, mainly in the famous tea region of Fujian, China. Their teas are not mass-produced in large industrial gardens and are completely fair-trade. Henrietta will introduce you to some of the finest teas in the world produced by artisans and masters. A delicious range of cakes will also be served.
Other exciting guests coming but have yet to finalise dates include;
Rick Stein who needs little introduction, Valentine Warner whose recent TV series WHAT TO EAT NOW was an instant success with food lovers. Tom Parker Bowles who will be here to eat and talk about his new book out in the summer. We will also have a British beer with Rupert Ponsonby an authority in the world of beer.
If you would like to be kept informed of dates for any of the above and new additions to the year then please contact Jo Verberne or speak to Jonathan Jeffrey at the HIX Oyster & Fish House.