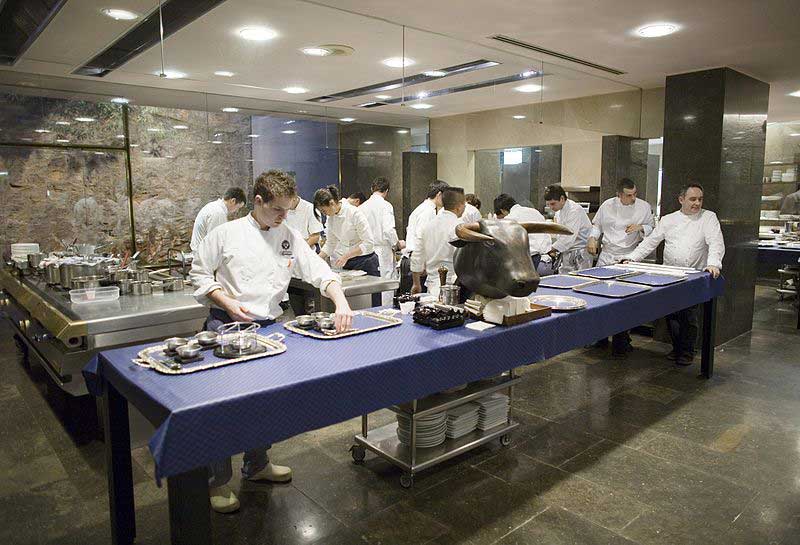 As chefs from around the world wake up in Soho doorways and pull half-eaten kebabs from their pockets, 'Mon Dieu! What is zeees?' the jamboree that is the San Pellegrino World's 50 Best Restaurants Awards comes to an end. Did your local curry house make it into the list? Read on Macduff
The location for the San Pellegrino World's 50 Best Restaurants Awards is somehow appropriate; Freemasons' Hall is one of London's more mysterious buildings and the process that goes on inside its ornate rooms a bit of a secret. Do they really roll up their trouser legs? The voting system for the Awards is a bit of a puzzler too, every year it's explained to us and every year I wake up with a start and find I have failed to take it in.
The basic rules seem to be that the same two restaurants should occupy the two top spots until hell freezes over. El Bulli (Spain) and Fat Duck (England) and so it came to pass this year and while the applause for Ferran Adria and Heston Blumenthal was as genuine as ever, they was a certain air of boredom about it.
Copenhagen's Noma came third, which is good news for funky chef Rene Redzepi, and good news for us too. This is a restaurant which, unlike El Bulli, is actually open most of the year and that you and I have a more than reasonable chance of getting a table at within our children's lifetime. Once upon a time all restaurants were like that.
Britain came in with only one other place; St John in Clerkenwell was 14th. (Nobu and Hakkasan I don't class as British). Glad as I am to see one man flying the flag, I think there are better restaurants than that in London, and in the UK, and have to wonder just why St John got in. Did the judges, grandly named The Nespresso World's 50 Best Academy, drink too much of the sponsor's coffee?
As an evening it's always fun to spot the restaurant critics in the room, whose desire for anonymity when visiting a restaurant can be gauged by the size of the portraits they demand next to their column. The actual list presentation itself though is a bit like being stuck in Eurovision hell (Ireland – null points) and the fact that everyone knows who will be the top two winners takes some of the drama out of the occasion.
New talent is coming and it's refreshing to see that some of the new entries are restaurants that don't experiment with science kits but keep it real. It reminds me of the last days of prog rock and how grateful we all were for punk and its use of simple ingredients. In Spain at Asador Etxberri the food is cooked 'primitively' over an open flame and that sounds to me like the only restaurant on the list that I actually want to go and visit. Food, like music, is a visceral pleasure and I like my music when it's loud, vibrant and making my feet move not my head. Let's hope next year that the 50 Best has more punks on the podium.
For those planning a culinary World Tour here is The List
1 El Bulli, Spain
2 The Fat Duck, U.K
3 Noma, Denmark
4 Mugaritz, Spain
5 El Celler de Can Roca, Spain
6 Per Se, U.S.
7 Bras, France
8 Arzak, Spain
9 Pierre Gagnaire, France
10 Alinea, U.S.
11 L'Astrance, France
12 The French Laundry U.S.
13 Osteria Francescana, Italy
14 St. John, U.K.
15 Le Bernardin, U.S.
16 Restaurant de l'Hotel de Ville, Switzerland
17 Tetsuya's, Australia
18 L'Atelier de Joel Robuchon, France
19 Jean Georges, U.S.
20 Les Creations de Narisawa, Japan)
21 Chez Dominique, Finland
22 Ristorante Cracco, Italy
23 Die Schwarzwaldstube, Germany
24 D.O.M., Brazil
25 Vendome, Germany
26 Hof van Cleve, Belgium
27 Masa, U.S.
28 Gambero Rosso, Italy
29 Oud Sluis, Netherlands
30 Steirereck, Austria
31 Momofuku Ssam Bar, U.S.
32 Oaxen Skaergaardskrog, Sweden
33 Martin Berasategui, Spain
34 Nobu U.K.
35 Mirazur, France
36 Hakkasan, U.K.
37 Le Quartier Francais, South Africa
38 La Colombe, South Africa
39 Asador Etxebarri, Spain
40 Le Chateaubriand, France
41 Daniel, U.S.
42 Combal Zero, Italy
43 Le Louis XV, France
44 Tantris, Germany
45 Iggy's, Singapore
46 Quay, Australia
47 Les Ambassadeurs, France
48 Dal Pescatore, Italy
49 Le Calandre, Italy (-13)
50 Mathias Dahlgren, Sweden (New Entry)