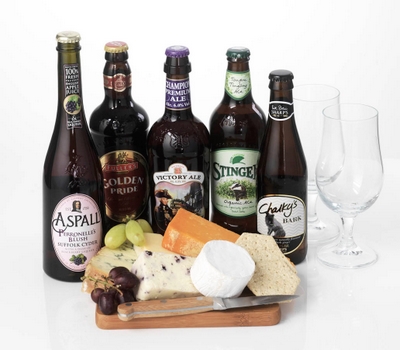 With St George's Day fast approaching, the British Cheese Board has created some tasty British cheese and beer pairings to help you celebrate this patriotic day in style. Britain produces over 700 named cheeses and there are over 2,000 brands of beer in Britain. With such a variety on offer, there is great scope for winning combinations and what better way to celebrate Britain's Patron Saint's Day, than with what we would call the perfect match!
For those who prefer a strong cheese, Cheddar is a great start. With its strong flavours and velvety texture, it creates a smooth coating in the mouth which when tried with White Shield (a toasty like beer) opens up the palate to flavours of citrus and apples.
If you prefer something with a little more of a kick, a Mature Blue Stilton and Ola Dubh (a dark beer) will definitely live up to that. The heavy substance of the beer and its malty and marmite notes complements the cheese, resulting in a powerful explosion of flavours.
Melissa Cole, beer journalist and author of popular blog 'Girls Guide to Beer' helped Nigel to identify the perfect beer and cheese matches. Melissa says 'Beer is, quite simply, the most natural partner for cheese you could choose, and it's no accident that Britain has a strong history, not to mention bright future, of artisan brewing and cheese making. Whether you choose the classic combination of a pint of bitter with a Ploughman's or the sophisticated match of a barley wine with Stilton, the opportunity for epicurean delight from the partnership of beer and cheese is endless'.