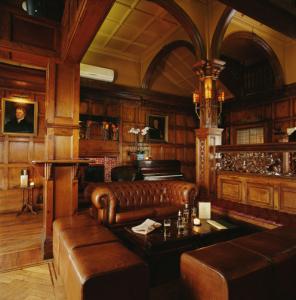 Normally when singing breaks out in a bar, I head for the door. Whether its the 'ere we go,ere we go' of the footballing fraternity, or the semi-obscene ditties of the rugby enthusiast, it normally spells trouble.
Not at the Bar 190 at the Gore. As I sit nibbling my tapas in the romantic candle lit bar, the rather glamorous girl I have been covertly observing, (covertly as I am with the wife) suddenly bursts into thrilling song while orchestral music swells from hidden speakers. As I pause, prawn halfway to my mouth in shock, she's answered by a rich male tenor who sweeps into view to join her for a duet. Welcome to Opera Night.
A simple idea from the fertile mind of co -owner Edward Bracken, it certainly fills any awkward conversational pauses. You eat, you drink, you listen, either at the bar with a fancy cocktail, or from the bottom-hugging depths of the antique sofas with a bottle of Rioja close to hand. Fiona Oliver Smith of Oyster Opera will perch on the arm of your chair and sing as if just to you, which raises the temperature a bit, but the ladies can enjoy her partner James' close attentions just as happily.
Good fun, good food and with the amount of opera well-judged, so that there's plenty of gaps in the performances to chat with friends. Check out the Gore's website for details.
The Gore 190 Queen's Gate London SW7 5EX