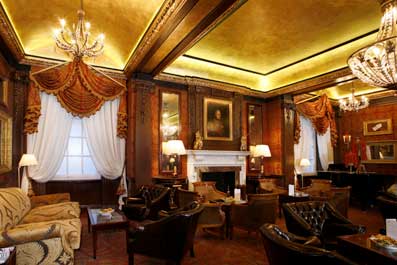 As far as I am concerned if a poem neither rhymes nor scans, it's just bad prose laid out in a non standard way. So an invitation to The Goring Hotel for an evening of poetry had me fearing the worst – Maya Angelou read aloud perhaps? Or, God forbid, some of Ezra Pound's dribblings who was locked up for being a traitor and not, alas, for his poetry. These fears proved groundless. As Bollinger flowed and tasty nibbles circulated, Managing Director David Morgan Hewitt banged the gong to announce the first reader.
As poem followed poem. from sublime Blake to the magic of Spike Milligan, we had a chance to admire the Tim Gosling redesigned bar and lounge of this 5 Star hotel, all hand-woven carpets,gilt stitched silk wall hangings, domed ceilings, with original cornicing hand gilded and distressed, with deep red bole visible in glimpses. The room is lit by candelabra, powered electrically, and designed to emit 1 lumen -the exact glow of a small dinner candle. So it's rather cosy as you might guess.
This was a reheasal for what will be a regular event of "Rhyme with Reason" each evening in April. starting at 7pm and themed to events in that month past and present. It's all very civilised and a very pleasant way to spend the early hours of the night. At one point I felt a strong urge to leap up and deliver some of my own favourite poet's works, the unbeatable Gerard Manley Hopkins. Ah well, perhaps next time.
The Goring has been owned and run by the Goring family, from the day it opened in 1910 and is a little gem tucked away from the Madding Crowd (Thomas Hardy, another great poet) and wonderfully serves kidneys at breakfast, thus seriously disconcerting their American guests I am sure.
Find out more by visiting their website www.thegoring.com