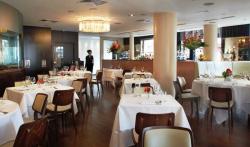 I was invited recently to Moti Mahal to attend a five course dinner, pairing their wonderfully tasty Indian cuisine with wines from Indian wine producers Grover Vineyards.
Grover Vineyards are some 1,000 feet above sea level on the outskirts of Bangalore and were planted with French vines back in 1988. I understand that the vines are protected from the region's hot climate as this is balanced by the cooling effect of the altitude, creating what I am told are excellent conditions to grow grapes for wine-making. Production began at Grover in 1992.
This event, at the stylish Moti Mahal restaurant, started with our being offered vanilla and passion fruit Bellini cocktails, accompanied by a stream of lovely canapés, including beautiful tandoori chicken breast, cornets filled with a spicy chopped prawn mix, and vegetable samosas, all designed to enliven the palate, which they did in abundance.
We sat down to eat and the first course was some excellent paneer in a sauce of tomato, spring onion and bell pepper, which was fruity and tangy with some heat. We had this with a good pink Champagne, our first taste of the Grover wines had yet to come.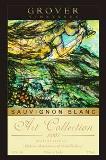 Next came monkfish in a tamarind, tomato and ginger sauce with coriander. This had good depth of flavour, almost an earthiness to it, but given a fresh tingle on the tongue principally due to the tamarind. The dish was paired with the first of the Grover selections, the Sauvignon Blanc 2009. This wine has a sharp tangy nose with notes of fresh green fruits. On the palate it had a surprising amount of body for a sauvignon Blanc, its tangy acidity gave a tingle on the edge of the tongue, citrusy flavours come through clearly. It had a good depth of flavour with a creamy texture and length on the palate. This is a bold wine that was good both before I tasted the food and with it. It stood up well to the food, the citrus cutting through the dish cleanly.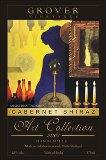 Our next course was butterfly lamb seasoned with cinnamon bay leaf and chilli, a beautifully flavoured dish yet the seasoning didn't mask the taste of the meat which was lovely as well as being beautifully tender. With this dish we were served the Grover Cabernet Sauvignon/Shiraz 2009, which had dark berries and some acidity on the nose. On the palate this wine was soft, with some acidic edge and berry fruits came through. It's a smooth, medium to full bodied wine with medium tannins in its finish. This is certainly a very good wine.
Our fourth course was a chicken biriyani, much lighter than the lamb dish and with a great fragrance from its seasoning. Cooked perfectly, the chicken was lovely and tender. This was accompanied by the Grover La Reserva 2005, the Vineyard's premiere wine. It had forest fruits and some sharp edginess on the nose. On the palate it was much finer than the previous red, medium bodied, it had good red fruit on the palate that gave it a sweetness with some fine tannins coming through in its finish, another excellent wine.
Our dessert was a bread pudding made of saffron milk soaked layers of bread and thinly sliced pineapple, accompanied by a rich home profuced ice cream that had a delightful flavour. With this and to bring the meal to a close, we were served a French Muscat, its syrupy, fruity sweetness balancing the dish well.
So, in conclusion, does wine pair well with Indian food? I think the answer is that it's a matter of personal choice and taste. What I can tell you is that during the evening I tasted some excellent food, courtesy of Moti Mahal's chef and some very good interesting wines from India, courtesy of the people at Grover, both of which I enjoyed very much.
It is unlikely that you will see Grover wines on your supermarket shelves, or the local off licence, these wines are retailed mainly through restaurants. If you see one and you've had your curiosity aroused – as mine was – why not give it a try? I can say unequivocally that they are very good wines indeed. As for Moti Mahal, go there, it has great food as well as Grover wines on their list.
For more information about Grover Vineyards' wines click on the link below.
Moti Mahal, 45 Great Queen Street, London, WC2B 5AA www.motimahal-uk.com