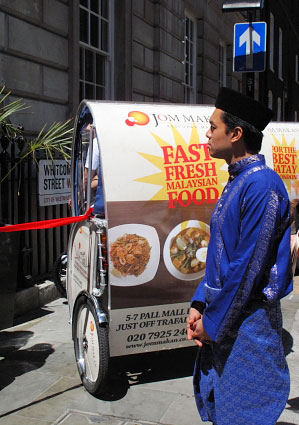 Jom Makan means 'Let's go eat' in Malaysian, which is the sort of invitation I like to receive. So much better than 'Come into my office and shut the door,' which in my experience has never ended particularly well.
It's their first birthday after a year of successfully selling fast Malaysian food at a price much lower than their rather fancy location might suggest. The restaurant is bright, high ceilinged and lively. If I were a footsore tourist, staggering out of the National Gallery blinded by art, I'd fall on this place with a cry of delight.
As it's their birthday they have taken the opportunity to launch a fleet of pedal rickshaws and invite the Malaysian ambassador to say a few words, which he duly does. The gist is that Jom Makan is itself a wonderful ambassador for Malaysia, which it definitely is, and that they will be opening a second outlet in Westfield, which is good news for the shoppers of Shepherds Bush.
We go outside to see a, frankly, rather apprehensive ambassador get whisked off for a quick rickshaw ride around Trafalgar Square, together with a mysterious band who aren't' Malaysian and appear to be dressed for the casting of 'Spinal Tap II – The grounded years'. Back inside in front of a massive buffet that no one is touching, I grab a spoon and advance determinedly, only to be physically held back. 'Not before the ambassador!' is hissed in my ear.
His Excellency takes some time to be pedalled back but before the throng can turn mutinous, he is in place with plate in hand. They certainly know how to put on a feast at Jom Makan and the dishes keep pouring out until even I have had enough. Top marks for delicious squid and chilli, moist perfectly cooked Satays and crisply fried prawns.
The menu in general looks tempting and at lunch the place was filling up fast with a whole mix of ages and races who all seemed very happy. They're doing a good job at Jom Makan, so go eat!
Jom Makan Restaurant. 5-7 Pall Mall East, London, SW1Y 5BA |www.jommakan.co.uk