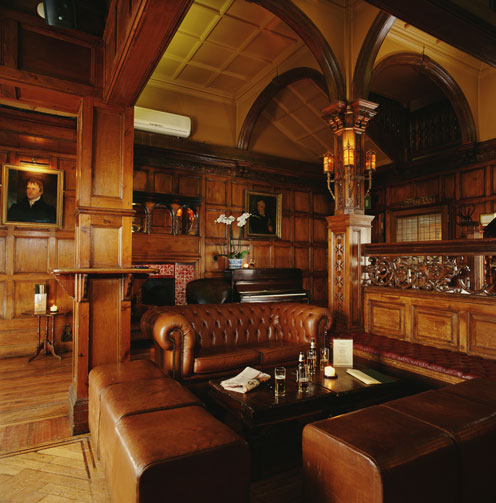 The Gore 190 Queen's Gate London SW7 5EX t : +44 20 7584 6601 reservations@gorehotel.com

The Albert Hall is just a short walk away but the taste of Spain is a lot nearer at The Gore – hotel, bar and bistro in classic, classy Queens Gate, Kensington.
'The whole area was an orchard before 1892,' says co-owner Edward Bracken, thoughtfully spearing a warm garlicky olive, part of a large spread of tapas he's had set out in front of us courtesy of Head Chef Taher Jibet. 'It once served as the Turkish Embassy, but otherwise it was a hotel almost from the start over a hundred years ago. As a hotel it was originally run by two descendants of Captain Cook!' Such links to the past seem to come naturally to this unique place.
The Gore is basically two massive old terraced mansion houses joined together to create a wonderfully eccentric structure. In this hotel instead of faceless corridors that resemble some kind of battery farm for humans, you have staircases that mysteriously terminate in blank walls, grand old ornate hallways, sudden and surprising nooks and crannies and a sense of being in some aristocrat's London home. It's just what Edward and his business partner wanted.
'I'd worked in corporate hotels and had a good career from Torquay to Switzerland,' he explains as we set about some rather good mini brochettes of nicely spiced lamb. 'Ten years ago I decided I wanted something with more heart and soul, a real hotel for real people and so we bought this wonderful place.' His aim, he explained, was to have the sort of hotel that people would come back to again and again and regard as a home from home. 'And it has worked that way. People call us up; we know them by name we don't have to ask their preferences because we already know them. Many want the same room they had last time and we always do our best to accommodate them -literally.'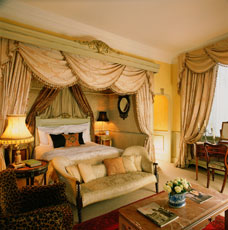 Ah yes the rooms. Just before the tapas turned up, we had been on a little tour of exploration, carefully knocking on doors first. 'There's no one booked into these rooms until later tonight,' says our guide Rowan Hartley, 'but there's always a first time so it's best to make absolutely sure it's empty!' We see the Dame Nellie Melba room where the opera star and famous dessert liked to stay. Its colour scheme is peach, of course, and it's opulent without being over the top and like all the principal rooms has excellent Egyptian cotton linen and nice antique pieces of furniture to give it real character.
Next Judy Garland's old room, which is very theatrical indeed. A grand bed, rather risqué oil paintings and an internal corridor that leads to a palatial bathroom with large cherub statues standing guard over a massive bath. Of course there are a pair of red ballet shoes on display too. The original stained glass windows give the bedroom warm privacy and discreetly hidden modern necessities like flat screen TV, air conditioning, iPod dock and Wi Fi are all there. The silence is wonderful, thanks to almost invisible double-glazing.
So what's with all these tapas I ask, lowering a quivering piece of rich liver in sauce into my mouth. It seems it's all about increasing bar traffic. Already a popular place with those in the know and on A lists, the bar has retained its original wood panelling, ornate high ceilings and a wood floor that Edward has quite rightly refused to have sanded so that a century of action is still embedded there. Lit by nothing much more than candles, the room is intimate and rather sexy, with a bar that seems to have every drink in the world. 'We want to have something for every one,' says Edward. 'If we don't have it, we buy it for them. What we don't have is any beer on tap,' he shudders at the very thought. 'Tapas seemed to me to be just right for this kind of bar, he explains as we both go for the prawns simultaneously. 'You can have as much or as little as you like, some are hot and some are cold and they are perfect for sharing, which is just what you want in a bar. Plus they are very, very tasty." I nod as I go for some rather fine chorizo in rich oil, mopping up the spillage with the good sourdough bread.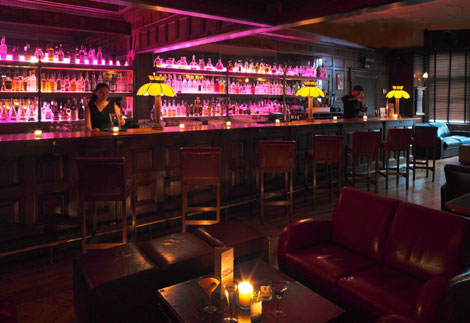 The hotel was used for the Rolling Stones Beggars Banquet film and is frequently used for after parties, as a backdrop for photo shoots, particularly fashion, and as a base for many bands currently in vogue. Edward reels off a list of trendsetters who have recently stayed and takes me downstairs to see the baroque areas that can be hired for glitzy parties. 'A long way away from the guest rooms,' he points out. 'People can drink, dance and make a noise until dawn down here and the other guests won't hear a thing.' The Who once had a party down here so he must be right.
A gorgeous hotel like The Gore is one London's hidden gems, a bit pricier than a Travel Tavern perhaps, but if you're visiting London why stay in a horrible hole when you can lounge back in a Chesterfield that is older than you are and feel like you've come home?
And if you want to meet friends for a drink then the bar and its new tapas menu is a million miles away from the overcrowded, over priced and underwhelming bars that are ten a penny in the capital. It's privacy with a small p and class with a big C. Good on The Gore and here's to another one hundred years.
nick harman