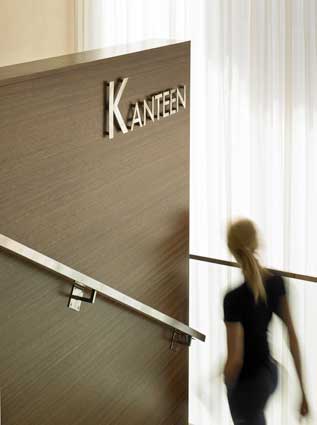 Shepherds Bush has become a shopper's paradise over the years with not one, but two substantial shopping complexes virtually next to one another. Tucked in behind the West 12 Centre, in Richmond Way, you will find the K West Hotel and Spa. Created out of former offices of the BBC, K West's frontage is quite modest in size, but the building boasts in excess of 200 rooms and attracts a wide variety of guests. The house restaurant, Kanteen, sits above the hotel lobby, has a clean almost minimalist design and is a pleasant area to sit and dine. Kanteen's Head Chef, Sylvan Chevereau has created a Saints and Sinners menu, which caters both for the health conscious, as well as those of us who are a little more indulgent, although it has to be said, the saintly dished are not calorie counted. Together with some other foodie scribes I was invited to go along recently to sample the menu.
I decided that I would be a Saint for the whole meal, though it is perfectly acceptable to choose courses for your meal from either side of the menu. I started with the Saintly baked portobello mushrooms, a stack of three mushrooms, sandwiched together and topped, with broccoli and apricot pesto and sat on a bed of sliced beetroot. The mushrooms were well cooked with a firm texture, and were nicely complemented by the pesto spread atop each of them before stacking, this was a lovely dish that despite its listing, didn't feel all that saintly.
For my main I chose the seared salmon fillet with warm pearl barley and Mediterranean vegetables. The vegetables and barley were mixed together in a
Barley equivalent of a firm risotto and made a fine pairing with the salmon, which was beautifully cooked, moist with a good flavour and topped with a firm yoghurt and lemon dressing, a very nice dish for the saints among us.
How virtuous was I feeling when the menu was placed in front of us to choose our desserts? However, despite my resolve to be saintly throughout, having already decided to have the crispy apple tart, I looked at the sinner dessert list again and was uncontrollably draw to the sticky toffee pudding with butterscotch crunch ice cream. Who wouldn't be? Despite its accredited sinfulness, the pudding itself was remarkably light, but accompanied sauce, and ice cream it was an indulgent finale to the meal.
Kanteen's wine list has a good range with prices starting at £17 a bottle; their waiting staff are attentive, polite and helpful. The portions were on the generous side and despite my saintly start, I couldn't quite manage all of my dessert. It is certainly worth trying Kanteen, particularly if any of your party is conscious about choosing healthier options but craves something a little more substantial, although there are salad options, too. You can make a reservation there by calling them direct on 020 8008 6600.
akandpa