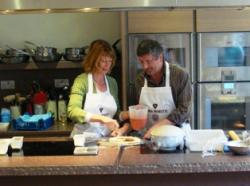 Italian food lovers in London will have the opportunity this summer to learn how to make an authentic Italian pizza using Italian beer in the dough! I was invited along recently, with other food journalists and some foodie bloggers, to experience what will be on offer to those wishing to take advantage of this learning experience.
For these events Birra Moretti, Heineken UK's imported Italian beer, has teamed up with Italian restaurateurs and TV culinary duo Giancarlo and Katie Caldesi to offer two fun and practical pizza making evenings. Taking place at the Caldesi's cookery school, La Cucina Caldesi, in Marylebone Lane, London, on June 11 and August 13, the workshops will teach attendees how to make authentic margherita pizza which remains true to its Italian roots. As an accompaniment to the pizza, attendees will be offered glass or two of the Birra Moretti, which is a very nice lager style beer with some body and a slightly bitter flavour.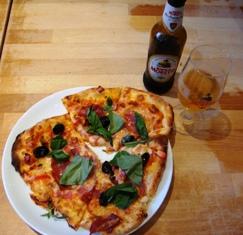 Whilst giving their relaxed but informative demonstration, Katie and Giancarlo explained that using the beer as an ingredient to make Italian pizza dough, complements it well, reacting with the yeast, helping to create lighter and crisper dough. Katie and Giancarco also gave advice about pizza topping, saying that you should not overdo it. Yours truly thought he knew better, and threw everything on, much to Giancarlo's horror. Giancarlo baked my effort nevertheless and it came out of the oven looking beautiful, even though I do say so myself. However, when I cut it and tried to slide it whole onto a plate I realised that Giancarlo did indeed know best. Its base was rather soggy and as a consequence, difficult to eat. Did I eat it? Of course I did and it tasted pretty good, my having loaded it with mozzarella, ham, chilli shreds, prosciutto and more, yum! Just a shame about the base, oh well. The good thing about it was that I learned something from the experience, and in future my bases will be much crisper and better for it – thanks Giancarlo and Katie.
The Birra Moretti and pizza making events, if they are anything like that which I attended, promise to be fun evenings, with hosts Giancarlo and Katie sparking amusingly off one another. They could well be a great thing to do, where you can learn something and have a bite to eat after work, before moving on to other Friday night summer entertainment. Two classes will be run each night on June 11 and August 13 from 6pm – 7.30pm and 8pm – 9.30pm respectively. Each class will cost £28, which, given that you get fed and watered seems to me to be very good value.
For further information, or to book a place, call La Cucina Caldesi on 0207 487 0750/6/8 or email: lacucina@caldesi.com.
For further information about Birra Moretti, visit www.birramoretti.com and for information about other courses run at La Cucina Caldesi go to www.caldesi.com