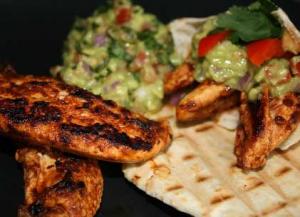 Let's be honest, the calibre of most Mexican food in this great nation of ours is pretty pants. There are, of course, some good quality restaurants around now but Mexican food is not fussy or fancy and is what Mexicans eat in their own homes. So why aren't we making more of it at home? Mexican food is about fresh flavours, using chillies, coriander, tomatoes and lots of fresh zesty lime juice to round things off beautifully, everything from the marinated raw fish of Ceviche to the slow cooked meats that fall apart from tenderness. But perhaps it is the effort factor that scares us from trying new things? Well fear not my hungry friends, this quick supper is a great way to enjoy the flavours of Mexico in very little time indeed.
Chipotle [Chee-pot-lay] are smoked chillies that have the most wonderful smoky flavour which when used in marinades for meat and poultry and Mole sauces, impart a deep earthiness into the dish that is incredibly comforting. I always keep a jar of Chipotle paste in the cupboards, because convenience is the name of the game sometimes and it is perfectly ok to get a little help to prepare a good meal and my Chipotle chicken pitas are a great meal.
Serves 2 (or double the quantity to serve 4)
Ingredients
250g pack of mini chicken fillets (or chicken breast cut into finger sized strips)
1 jar of 'Discovery' brand Chipotle paste
2 large white pita breads or flour tortillas
½ red pepper cut into strips
Handful of coriander leaves
A little oil for frying
For the Guacamole
1 large, ripe avocado
1 large ripe tomato, finely diced
1 teaspoon of Tabasco
½ small red onion, finely chopped
Juice of half a lime
1 teaspoon of oil
1 teaspoon of Maldon sea salt
Method
Preheat a pan over a high heat. Coat your chicken fillets thoroughly in the Chipotle paste and drizzle a little oil into the pan and fry the chicken for about 5 minutes each side. To check if they are cooked, just test the pieces by touching them and if they are still springy on the inside, they could do with another minute or so. Once cooked, set aside and keep them covered so they stay warm.
To make your Guacamole, take a little bowl and using a fork mash the avocado until you get a consistency you are happy with, then add the rest of the ingredients and mix well.
If you wish, you can toast your pita breads before cutting in half and filling with your chicken, some of the Guacamole and red peppers and top with a little coriander. You can mix it up a little too, by adding cheese or using beef or fish instead of chicken, there are no rules at all. An absolutely delicious and utterly moreish dish to eat any night of the week, packed full of flavour and involving very little effort at all. 'Ay Chihuahua!!!".