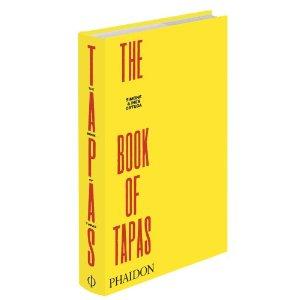 What can this nook be about then? Oh yes, tapas. Pretty popular things these days, what with tapas places popping up all over the country like mushrooms after a rainshower. Is it memories of sun, sea and sangria that make us pine for the little dishes? Is it a reaction against overblown pretentious food, served by waiters who expect you to worship at the feet of their chef? Or simply that simple food, done well, is the best way to enjoy an evening with friends?
A bit of all that probably, but when it comes to cooking at home tapas can be a little bit tricky. It's not that the individual dishes are too hard; it's just that you need to make so many of them. That's not a problem the authors of what the jacket calls 'the definitive book of tapas' address. In fact they say 'Tapas are versatile, tasty and perfect for entertaining at home.' Well that's a big yes to the first part of that sentence, but a Chloe O'Brian frown of mistrust at the second.
Simone and Ines Ortega are the chef/authors and names to drop whenever talk turns to tapas. Their book, 1080 Recipes is a fixture in just about every Spanish home kitchen and they are a trusted authority. Their Book of Tapas has the tone of voice of peoplewho know what they're doing and if you pay attention you will too.
Certainly every kind of tapas is here, there are over 250 listed and described, many old authentic favourites (but done properly) and many mouth-watering new ones to enjoy from modern masters such as Jose Andres, Albert Adria, Albert Raurich, Jose Manuel Pizarro, and Sam and Eddie Hart. Prunes with Roquefort and pine nuts is easy-peasy and warm aubergine and anchovy salad too. A good one to eat right now is fried asparagus with garlic, vinegar and paprika. There are tortilla recipes such as mussel tortilla and lovely little pastries like Curd cheese and goat cheese pastries. Toast with cheese and beer is bound to go down well too.
The text was originally in American, not English, but the English translations are in brackets so that we know that a broiler is a grill, a skillet a frying pan etc. The measurements are in cups, an American method that most still find confusing. You can actually get cup measurers from kitchen supply shops and they're worth it, no more wondering just how big exactly a cup might be. If you prefer though, again English weight measurements are there too.
The pictures do a good job of getting the taste buds going – too good a job as you want to eat them all and may overreach yourself in the kitchen. Simone rather blithely assumes that you can make puff pastry, if she gives you basic instructions, but frankly it's not as simple as all that as we all know- buy a packet and make it easy on yourself.
That kind of short cut can double your output and you will want to make as many of these delicious sounding treats as you can. There's a glossary of Spanish ingredients to help you and a list of UK stockists too.
This is a book that fills the slot of 'only tapas book you need'. If the sun is out get into the kitchen, grab a chilled fino and let yourself go.
{ISBN:0714856134}