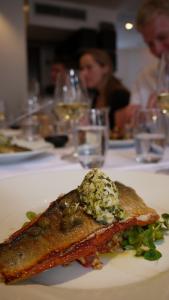 From an annual intake of 96, the finest students to graduate the diploma at Leith's school of food and wine were recently rewarded with a tally of elegant and engaging prizes. Along with Leith's alumni and influential food personalities including Gizzi Erskine and Alice Heart, I attended the lunchtime celebrations at Marylebone's 'Providores' restaurant, lifting a flute of pink Laurent-Perrier in the students honour…
Unfortunately, Jonathan Jack, winner of the coveted, Laurent-Perrier endorsed, overall student of the year award, could not be present owing to intriguing sounding work commitments in a Welsh castle. When he has time to catch his breath, Jack may redeem his prize of a trip for two to the Champagne house's cellars, Tours-sur-Marne.
Russell Dixon Box achieved wine student of the year, supported by Burgundy house, Louis Latour, who provided the wines for lunch. He wins a trip for two to Beaune.
Finally, Rosie Reynolds and Adam Russell were joint winners of the journalism award, which is backed by BBC Good Food magazine. They now have the opportunity to complete six month long placements at the magazine's Wood Lane HQ. Incidentally, Russell represents the only man to win this award in nine years.
Proprietor of The Providores, Peter Gordon, who frequently lectures at the school on fusion rather than confusion cuisine, was also present. When Leith's Chairman, Sir Christopher Bland, pointed out that Gordon's book, 'Fusion' features him sporting a Leith's branded apron, Gordon looped one over his clothes on the spot.
Head chef of the Providores, Cristian Hossack crafted a series of beautiful, provocative dishes. These included a starter of ginger and coriander seared Bavette steak with roast pineapple, vermicelli noodles, pomello, puffed rice and pecans with maple syrup (approached with chop sticks). Mains featured pan-fried Greek seabass on walnut bulgur wheat salad with pickled garlic, broadbean and mint salsa and caper butter sauce. The standout dessert was chocolate-passionfruit delice with Pedro Ximenez marinated prunes, crème fraiche sorbet and a chocolate chilli wafer.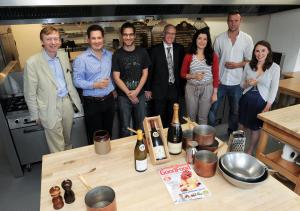 From left to right: Richard Nunn – Director, Louis Latour Agencies, Russell Dixon-Box – Louis Latour Winner, Jonathan Jack – Laurent Perrier Winner, David Hesketh – Managing Director, Laurent Perrier, Rosie Reynolds – BBC Good Food Magazine Winner, Adam Russell – BBC Good Food Magazine Winner, Sarah Cook – Deputy Food Editor, BBC Good Food Magazine
The next diploma course begins 27 September.
For enquiries: www.leiths.com