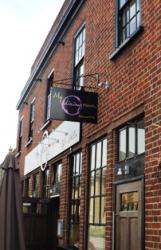 Having opened earlier this year, My Dining Room is certainly developing some great innovative stuff. Their latest move is to introduce a Pink Lunch available to customers from 12 till 3 Friday and Saturday lunchtimes. Priced at £15 for a two course lunch with unlimited cosmopolitans, it seemed such a good deal, we had to try it.
There are four options for My Dining Room's Pink Lunch, these are:
Cherry Blossoming in Tokyo
A Seaweed Salad with Sake-cured Scottish Salmon, Sweet Sesame Dressing, followed by Ying and Yang Tapioca with Mango and Coconut
Summer Time Stroll in London's Gardens
A Salad of Steamed Asparagus, Poached Quail Eggs and Truffle Essence Dressing followed by Eton Mess of Strawberries and Papua New Guinea Vanilla Cream
Spring in Paris, the City of Love
A Seared Tuna Niçoise Salad with Garden Greens and Cherry Tomato Consommé, followed by Rose Crème Brûlée
New York, The City that Never Sleeps
Homemade Pastrami, Globe Artichoke Salad, Giant Pickle and Sweet Mustard Sauce, followed by Cranberry Cheesecake.
However understand that the desserts matched with mains are interchangeable.
We arrived for our Pink Lunch and were greeted with our first cosmopolitans, which we can say unequivocally, are very good indeed and very drinkable. We sat in the sunshine in the small outside area at the rear of the restaurant sipping these while we waited for our selections to arrive. They arrived, accompanied by more cosmo's, the home-made pastrami was very tasty, smoked with a good spiciness, it had the consistency of medium cooked steak, accompanied by a globe artichoke salad, mustard sauce and giant pickle, it was a great plateful. The tuna nicoise salad was equally good, the tuna nicely seared and the accompanying 'greens' were packed with black olive, tomato and anchovy, it supported the tuna well, as did the tomato consommé, which had a great flavour.
We followed our mains with the Eton mess, which was an excellent creation, the fruit and puree and meringue piled into a cocktail glass with the ice cream then cream poured over it, not only looked good but its flavour lived up to its looks. The crème brûlée had a lovely bitter-sweet crust from the caramelisation process and this was encasing a delicate but voluptuous pink, rose flavoured crème, the two elements combining well in the mouth. These were, of course accompanied by yet more cosmo's. This is, in our view, an extraordinarily good lunch deal and well worth popping along there to take advantage of.
Apart from the Pink Lunch, My Dining room have created a list of cocktails that are unique to them, all the more so by their making their own syrups and infused spirits with which to make the drinks; there's a whole range of interesting shaped bottles with vibrantly coloured liquids in them at the bar. Their new chef is also creating tasty bar nibbles: home-made crisps, spicy popcorn and wasabi peas as well as a range of bar snacks.
My Dining Room is a great place to spend some time, the bar area is zoned and has great features and the dining area spacious and comfortable with an elegant decor. We would absolutely recommend the Pink Lunch, it is remarkable value and a great way to spend a relaxing lunchtime with friends. But the place more generally is worth exploring, it has a lot to offer and they are working on more ideas to introduce over time.
The Pink Lunch is currently planned to be available until the end of October, it might be extended, a lot depends on you.
My Dining Room, 18 Farm Lane, London, SW6 www.mydiningroom.net