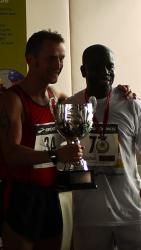 On Wednesday 8th July, residents at Hilton Park Lane witnessed the spectacle of chefs, critics and even 'Gladiators' bounding into the five star hotel's lobby then up 56 flights of stairs…
Rather than being late for work, an interview or date, the participants, including top London chefs, Michel Roux junior (Le Gavroche, Roux at Parliament Square), Chris Galvin and Andre Garrett (Galvin at Windows) and The Capital's Jerome Ponchelle were actually completing on their last legs, the last leg of the Mayfair Park and Tower Race. The 4.5km sprint circumnavigated Hyde Park's Serpentine Lake then took in a non-lift, 28-floor ascent to finishing point, Galvin at Windows' bar.
Via a minimum sponsorship of £250 per runner, the goal of the exertions was to raise £20,000 for into work apprenticeship scheme, 'Galvin's Chance'. The initiative offers notably under-privilidged 18-24 year-old Londoners, including those at risk of gun and knife crime, a series of placements at a selection of the capital's finest hotels and restaurants and the opportunity to achieve NVQ qualifications.
The programme is the inspiration of Fred Sirieix, dynamic General Manager of Galvin at Windows. Sirieix met Alexander Rose, a 19 year-old who developed the 'STOP' campaign (Solve this Ongoing Problem) after witnessing the death of his best friend from inner London gang culture. Sirieix, who frequently noted police road closures as the result of gang crime on his commute from Peckham, discussed the hospitality industry with Rose, becoming increasingly convinced that the skills shortage in his sector could be addressed by providing concrete opportunities for young people at risk.
Of the event, which is now in its second year, major supporter Chris Galvin said: 'every step taken on today's course is a step closer to helping someone who needs that second chance in life.' Michel Roux Junior added: 'I'm looking forward to seeing it continue to change young Londoners lives for the better.'
Alan Murchison (pictured above left) of BBC's Great British Menu broke last year's record of 19 minutes by completing seven seconds.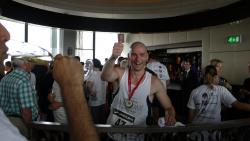 The project is co-ordinated by Hilton In The Community Foundation, the hotelier's charitable arm, in partnership with the Springboard Charity and Westminster Kingsway College.
Donations towards the new intake of trainees are still being taken. See: www.galvinschance.co.uk.
This photo: Windows' eminent maître d', Fred Sirieix raises a flute of Pommery Brut Royal Champagne