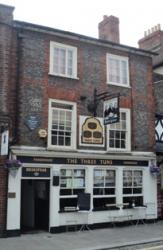 A hot sunny Tuesday morning, and all I want to do is lounge in the garden with a cold drink and a good book, but we are heading off to Henley-on-Thames for lunch at The Three Tuns. Henley on a glorious day – sounds like a treat, yes? Well, perhaps, but with the prospect of a journey entailing at least three trains and two tubes, it feels a like a bit of a chore. But off we go, and a couple of hours later, arrive to find a very pleasant town bedecked with bunting and awash with boutique-style shops, we are immediately charmed.
Situated in Henley's historic Market Square, The Three Tuns has an interesting past; going back some 600 years. Once a mortuary, it has more recently been a pub, and one with a slightly chequered history, we understand. The new hosts, Oliver Reichhold and Simon Bonwick have given this listed building a make-over, so now the front room is a light, welcoming bar, while at the rear, the dining room has been kitted out in, to use a horribly over-worked adjective, rustic style. The decor is simply but nicely done, with white walls, broken up by vintage posters and wall lights, plus simple decoration, and solid, farm-house style furniture (plus a reclaimed pew). On first glance, the owners have gone for function over form, but looking closer, there's a beauty in the style, and the room has a comfortable, welcoming feel to it – even on a sweltering day, we chose the dining room over the garden.
Aside from the regular menu, The Three Tuns offer daily specials, and we decided to mix and match from the two. Rabbit rillette with pickles and croutons is a regular, and was terrific; the meat had good flavour, the richness coming through nicely, and balanced by the tang of cornichons and silverskin onions. At the risk of sounding pedantic, the 'croutons' were really lightly toasted baguette slices, but the rillette worked better with the plainer accompaniment, rather than the richer, oily alternative. Whatever, it made for a very good start to the meal. From the specials board, foie gras was a generous portion, seared to a nice crispness on the outside it was scattered with finely chopped chive and red onion and was served with a peach chutney, which had the right degree of sweetness to balance the foie very well. It was another good starter – I thought it would also be suitable for a light lunch dish on its own.
Steak of some sort is going to be a regular feature at The Three Tuns, I understand and from the regular menu, we tried the Dexter beef fillet with summer truffle butter. This was a gorgeous piece of meat, and perfectly medium-rare, as requested. Served with spinach, roast shallots and the aforementioned butter, it was a substantial dish – not that we weren't equal to it! For our other main, we again hit the specials, opting for red mullet with scallops and ratatouille. This was another a generous plate of food; the mullet had been poached, keeping its delicate colour and flavour, while three big scallops had been similarly poached to perfection, the ratatouille added both vibrant colour and and some bold tangy flavour – this was another terrific dish.
At this point, we could have headed off into the sun, full and satisfied, but a curious mix of greed and conscientiousness drove us to the dessert menu. The lemon and raspberry cranachan was a fitting end to the meal, with the fruit sharpness giving a really refreshing tang to the soft oats in what was a lovely pud. The chocolate mousse 'Michel Cluizel' was at the other end of the spectrum, deeply rich, with an enormous wallop of cocoa and some brownie chunks buried within it; it was glorious – a perfect finish for chocoholics.
The Three Tuns has a range of wines by the glass, and is working on building a broad range by the bottle, from entry level to fine wines. It certainly promises to be a good destination for wine lovers. We also understand that apart from their a la carte menu they are introducing a two course set lunch menu which they will be pricing at £10.
Henley has an interesting mixture of one-off estabishments and 21st century chains, and listed buildings abound. The town combines the old and the new, which is what The Three Tuns are doing under one roof, to great effect. Would I make another five-hour round-trip to go there? I don't know about that, but I'd definitely go back as part of a day out or weekend away, and for those lucky enough to having it within striking distance, it should go straight onto the to-do list. These chaps are doing something interesting and different – check it out.