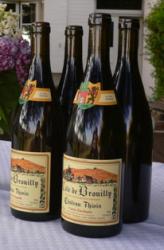 Hailing from the Côte de Brouilly appellation which is located on the slopes of the Mont de Brouilly (a dormant volcano) in the heart of the Beaujolais region and I understand that vines have been grown and wine produced there since the 4th century. This sister appellation to Brouilly should not be confused with its sibling which is the largest 'cru' in the Beaujolais region with approximately 1,300 hectares planted, compared with a mere 312 hectares in the Côte de Brouilly. The Côte de Brouilly wines, tend to be slightly richer and more concentrated than Brouilly and after warm vintages, can benefit from bottle ageing of up to five years.
Château Thivin is one of the leading properties of the appellation and has been in the hands of the Geoffray family since 1877. The Château nestles on the lower slopes of Mont de Brouilly, surrounded by vines, and there, they produce some of the best wines in this part of the region, using tradition winemaking methods.
Chateau Thivin has an attractive deep ruby/claret colour in the glass synonymous with the Gamay grapes from which it is made. Fruity, yet mellow on the nose there are notes of ripe strawberry. On the palate it is a lovely smooth mouthful with cherry and plum fruity acidity, a zesty citrus tang comes through and there is a hint of pepper in its finish. This is a lovely wine that is great to drink on its own, or with food, we had a bottle to accompany some roast chicken with a salad and it supported the food particularly well. I'm sure that this wine's smooth fruity flavious with a slight acidity would work equally well with cheeses and dishes that have a richness to them.
Côte de Brouilly, Château Thivin 2007 £11.75 Nick Dobson Wines