The Meat and Wine Co. Unit 1026, Westfield London. Tel: 020 8749 5914
At their meeting on Tuesday 1st September, at the Meat and Wine Co., the Club tested our taste buds and knowledge of wines.This took the shape of a game of 'Call My Bluff'. There were 6 rounds at which two wine experts from the Meat & Wine Co.'s wine suppliers Enotria www.enotria.co.uk gave us plausible reasons why the wine we were tasting in each round was from two entirely different producers. Our task was to decide on each of the six rounds which of the two experts were telling the truth, the prize for the winners, a case of 6 bottles to share.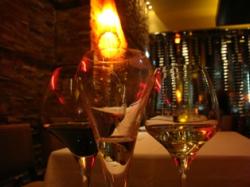 The wines in question were: Argeo Prosecco Brut, a fine clean tasting sparkling wine, retailing for £30 on the Meat & Wine Co. menu; Torrontes, Colome, a full bodied fruity white, on the menu at £22; Mansion House Bay Sauvignon Blanc, which had crisp fruity flavours and is on the menu for £27.50; Trinity Hall Hawkes Bay Pinot Noire, full bodied with lots of black forest fruit flavours in it, retailing at The Meat & Wine Co. at £30; Quinta Do Crasto Douro Red, another full bodied red, quite dry on the palate, but again with deep red and black fruit flavours, on the menu at £26 and finally Zondernaam Cabernet Sauvignon, beautifully soft, lighter in its fruitiness and velvety in the mouth and retailing there at £32. Regrettably our table didn't win the prize, but this was a good exercise in trying to pull out the subtle flavours in wines to identify what they were and from where. It was also a good opportunity to taste a number of the Meat and Wine Co. wines without the need to buy a full bottle.
Accompanying the tastings we had canapés, and afterwards some lovely steak, cooked medium rare, which had been cut into bite sized pieces and chips, for us to pick at. At a cost of £20 per head it seemed to us to be remarkably good value for what we had.
Whilst we were there we were told that the next Meet & Wine event will be on Tuesday 13th October at 7.00 pm, not the 6th as we had previously reported. This event will be the South African Wine Estates Dinner at which there will be selected wines to accompany each course at a cost of £45 per head. The Meat and Wine Co. are also celebrating their first anniversary on 29th October when they will have celebrity waiters and the evening will raising funds for the Nelson Mandela Children's Fund (UK). The November Meet and Wine Club meeting will be on Tuesday the 3rd and will be testing attendees' knowledge of Australian wines with blind tastings at a cost of £20 per head.
We also learned that the Meat and Wine Co. have introduced two new set menu options, both inclusive of house wine, available between midday and 7.00pm until the end of October: three courses with half a bottle of house wine for £22.50, or two courses with half a bottle of house wine for £20. This seems like an excellent deal to us. You can check out this, and other developments, through the above link. Take a look, you may be tempted.