Looking for a weekend break that combines stunning scenery, a fabulous hotel and fine dining? Us too, and always. We found it in the Peak district where the people are charming, the Peaks marvellous and the Peacock Hotel an oasis of quality service and food.
The Peacock at Rowsley, a luxurious boutique country hotel and our base, was built in 1652, as a stone carving over the outside door testifies, but the way that the old and new have since been combined by designer India Mahdavi is remarkable for effortless taste and respect for the building's fabric.
From the outside you see a grand old stone house that only a small sign tells you is a hotel. The old wooden front door swings open to a welcoming hallway and sitting room home to boots, fly fishing rods and reels (the hotel sits on its own private seven mile stretches of the rivers Wye and Derwent), as well as comfortable designer sofas and chairs, plus oodles of crisp, fresh magazines, newspapers and books. The reception desk is discretely tucked away, you could almost be in a private home, adding to the air of exclusivity. Even the main staircase has been subtly enhanced by small fairy lights on each tread that add a romantic atmosphere as you ascend.
Room with a view
With original Elizabethan leaded windows, a stone fireplace with grate and fine furniture from a country estate, not a wholesaler the room is romantic and welcoming. None of the sixteen ensuite rooms is the same and ours looked out onto the manicured garden beyond which could be glimpsed the river twinkling in late afternoon sunshine behind trees. Something to also drink in was a dressed tray of tea and homemade biscuits that arrived to help us rehydrate from our journey. The chocolate dipped strawberries on the writing desk may have been a bit of a boutique hotel cliche, but they got eaten all the same.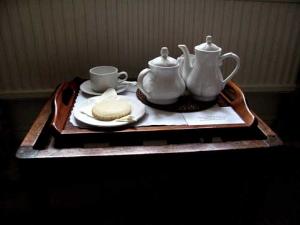 The bathroom, large, modern, well-proportioned and organically happy with the main room, had all the luxuries that the original house owners had to sternly do without, but which are now essential to the modern guest. Pausing only to scoop all the classy toiletries into our suitcase (only kidding) we hurried down to see the garden and grounds.
The noise of running water under the nearby stone bridge was cheerful and relaxing to those more used to the sound of cars and sirens and we wandered past a couple playing a game of croquet on the lawn, frequently interrupted by cuddles. Beyond the cut couple the riverside walk was tranquil and after a half hour of aimless, pleasureable, strolling about and almost falling in, we were ready to relax properly and with the gourmet dinner to look forward to.
Dinner is served

Head Chef Dan Smith used to work with Tom Atkins in London so it's no surprise that the menu, pored over in a cosy hotel bar wonderfully full of nooks and crannies and boasting a fireplace which in winter must me a magnet for muddy and cold travellers for miles around, is as good as it gets. Here a selection amuse bouches came to keep the stomach quiet; a small soup of aubergine with almonds and some foie gras with pistachio jelly – both hints of the quality to come.
The dining room itself with doors onto the garden was romantically lit, a bit too romantically for me as I couldn't quite see my food which was a shame as the kitchen had put a lot of effort into presentation as well as flavour. The carpaccio monkfish with chorizo dressing and salt squid was perfect. I love fish when partnered and slightly coloured with the oily spice of chorizo and the salt and pepper squid was even better than a Hoxton Vietnamese cafe. That's not faint praise by the way because those places are real experts. The delicate crunch of the batter, the tenderness of the squid and the finely judged amount of salt were just right.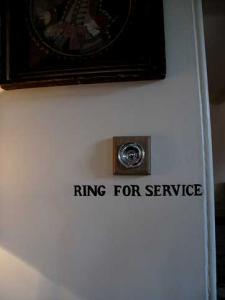 Mains were equally assured with a rich mix on the plate of duck breast, which was not quite seared enough for me, but which had the correctly pink centre, smoked duck liver which was decadent and divine, a turnip gratin which was nicely down to earth, sumac ( a sour herb) gnocchi and the needed hint of acidity came from a good cherry sauce. Well sized portions meant this was not quite the knock out blow it could so easily have been and there was still room for a bit of dessert, in this case a Chocolate parfait. This featured seasonal cherries too, poached and in an ice cream, plus a vanilla foam which I suppose is a bit passe now but which still works to break flavour across the palate.
Good attentive service, no questions about bringing tap water, and a room filled with couples clearly enjoying the relaxed and unfussy ambience made this clearly a place in the area to dine whether staying or not. Upstairs the bed had been turned down and the curtains pulled in our absence. All very comforting and a room that was easy to sleep in with no excess heat, no outside noise, just a sense of being cocooned in high quality linens and luxury.
Next day. A Peacock breakfast and Chartwell. Location. Location. Location
The Peacock at Rowsley is one of the Great Inns of Britain, a collection of historic, stylish and totally individual inns.
The Peacock's own website can be found here. We travelled to the Peaks with assistance from www.visitpeakdistrict.com