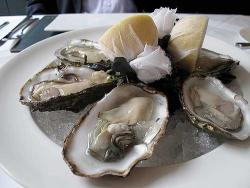 It's a cliché of course to say that restaurants like Greens offer comfort food for the upper classes. This is a notion based on the idea that the upper classes don't like 'fancy' food or stuff from Johnny Foreigner. They're supposed to only like food that reminds them of nursery or public school. Well it so happens that I am an ex-public schoolboy meself doncha know, but we were never served oysters or lobster at our place. No doubt things were different at Eton.
The truth is that this is a lie promoted by kids from comprehensives – we, the beautiful people – ate horrible food every day, but we are now in a position to never have to eat it again. That is of course unless we get sent to prison for insurance fraud, which has actually happened to a number of my contemporaries. We don't regard it as stealing, you see.
The new Greens in the City is already full at lunchtime with well-off people. Once they would have been 'decent chaps', now they are bankers. The recession is but a rumour to them and money is still no object, it just needs spending a little more discreetly though so as not to anger the proles.
This old Lloyds Bank building impresses on entry in order to make Dickensian supplicants aware that Mr Dombey's friends could Gradgrind them to dust. The bar area downstairs is St Peter's style massive; columns stretch up and away into the lofty heights and shrink the people under them to midgets.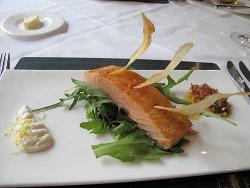 The main dining room upstairs is contrastingly snug, here green banquettes, white walls and staff in smart aprons make it appear as if it has been here forever yet without seeming dated. There is an air of cosiness, efficiency, of jobs being done right. The linen has the right crispness and weight; the murmur of conversation is soothing to the ear.
Oysters are obligatory in this sort of place and so we share a small plate of the cheapest, as Essex as Ian Dury and just as much fun. They're plump and redolent of the coast and properly served; the flesh neatly loosened, the liquid in place, lemon in muslin and no fragments of shell lying about to spoil the swallow. If these are the cheapest, the most expensive must be truly ambrosial.
Dukeshill bacon sausage rolls with Slomer black pudding, apple compote and bread sauce is not the tour de force we reckoned it would be when we fought bitterly over who would order it. The whole thing is rather bland despite the advertised quality ingredients, which is a shame. On the other hand my special of oak smoked salmon; a big hunk of fish with 'crisps' in it so that it resembles a galleon moving under full sail is marvellous. It could only have been improved by eating it next to the sea.
Seeing Albarino 2007 Bodegas Castro Marin, Rias Baixas, on the list I must order it. Having spent four days in Rias Baixas a few years back I am now of course a leading authority on the wines of the region. Well obviously I am not, but I do like it. It has a wonderful peachy zesty aroma and a pleasant acidity, which partners my fish beautifully.
Signature dish at Greens is Smoked Haddock Parker Bowles, a dish of fine, undyed smoked haddock sheltering under creamy chived mash, topped with a perfectly poached egg and moated in Hollandaise. A sprig of parsley from the Land of the Giants is the only awkward visual note. It may not be molecular gastronomy, but it's a massively wonderful dish.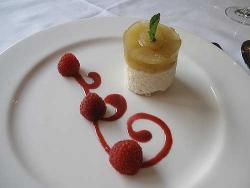 My Calves Liver bacon and mash is of course a classic dish. I like any offal and, perversely, often prefer cheaper lamb's liver to calves. This liver is well cooked for central pinkness and is top quality, what I miss though is some definite contrast between exterior and interior, it could have been cooked harder and faster at the outset to sear and slightly burn the outside. A quibble really because it was tasty, velvety smooth with delicious sage infused mash and nicely salty bacon. The red onion jus (gravy) really does remind me of school dinners though because, although well-flavoured, it is a bit thin and I splash some of it onto my jacket. For a second I worry what Mother will say when she sees it at half term.
Puds are perfect and the kitchen goes to town on presentation. Chilled rice pudding mousse with caramelised Bradley Farm Cox's apple may not sound exciting but it looks great and tastes even better. Sticky Toffee pudding also gets a makeover to give it some glamour. It's a simple dish, often done badly; here it hits the spot nicely.
Greens is an instant institution, perfect for the area and ticking so many boxes my biro has run out of ink. It may not be to everyone's taste, this is not 'feen deeneeng', but it's reliable, tasteful, professional and reasonably priced. It's not school food but other places could certainly learn a lot from it.