14-15 Hoxton Market, London, N1 6HG, Tel: 020 7739 8212 14 www.therealgreek.com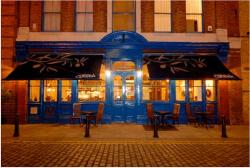 Set in the heart of Hoxton, The Real Greek is serving up traditional Greek food with a calorie-counted menu and new Cretan-inspired dishes that promise to make dining out and balancing a healthy lifestyle easy.
The restaurant is impressive and with an open bar and kitchen, you can see and feel part of The Real Greek as your food is being cooked. The simple wooden furniture and floor, and, low lighting from chandeliers, give a laid back feel to this ring-side seat on the bustling Hoxton Square.
The menu is split into two parts of cold and hot meze and friendly and attentive service recommended 3 dishes per person.
On the cold meze menu are instantly recognisable dishes such as hummus and taramasalata. Served with warm Greek flatbread which was light and moist and very moreish, the creamy classic was an instant hit and smoked to perfection. The hummus, a rich tahini house blend with cumin and fresh chilli was a world away from poor supermarket imitations and certainly got our taste buds tingling.
Continuing with the addictive flatbread we sampled the Santorinian fava, one of the new menu offerings local to Crete where locals are said to have one of the highest life expectancies in the world due to a diet high in unsaturated fats from fish and olive oil. A puree of lentils, olive oil and herbs, this very simple dish complimented the hummus and taramasalata perfectly and at only 226 calories was a delicious and guilt-free choice.
The wine list at The Real Greek is extensive with prices ranging from £15 to £50 and a good selection of beers available. In keeping with the Cretan theme we chose the Santorini 2007 – a well balanced white wine of citrus and white peaches with a refreshing acidity that cut through the creamy cold meze perfectly.
The warm meze follows the cold and didn't disappoint. The halloumi melitzano of cheese served with charred aubergine, beef tomato and basil oil was grilled with care and melted in the mouth whilst the chicken skewers of delicately marinated farm assured British meat were succulent and tasty.
Grilled calamari made from fresh squid and the unusual combination of honey and paprika marinade confirmed the meze as a triumph and we could easily have stopped eating here.
In the name of culinary gluttony however we ventured forth to try the souvlaki – more commonly known as a kebab but such a description really would do this dish an injustice. Called The Real Greek Wrap, we had one chicken and one lamb, which were skewered and grilled over charcoal then wrapped in warm flatbread with homemade tzatziki and tomato relish. Whilst a step too far after such generous portions of meze, the souvlaki was worth it. The meat was really tender and the tangy tzatziki of yoghurt, garlic and mint kept the wrap moist and gave the meat a great kick.
With increasing pressure to eat well, including the calories on every dish on the menu is a first for a London restaurant but probably will not be the last. An inspired way to make healthy choices without heading straight for the salad bar, The Real Greek has six other branches across the capital (Bankside, Marylebone, Covent Garden, Putney, Westfield and Spitalfields) and is the perfect start to a night out. We'll definitely be heading back.