Looking for a late summer getaway? The fabulous Peak District is there to be discovered with quality hotels, superb restaurants, local produce created with care, sites to see and of course fantastic scenery. We packed our bags and headed north to check out just some of what the region has to offer the Foode on a break.
The Peak District seems made for short breaks. Whether you want to visit stately homes, walk through fabulous scenery on narrated guided trails that can be downloaded to your iPod, complete with GPS information to keep you on track, drive to towns so cute and pretty you want to put them in your pocket, or just go from town to village to town sampling local produce in situ in a wide range of restaurants that cover every price range, this perfect part of the UK has it all.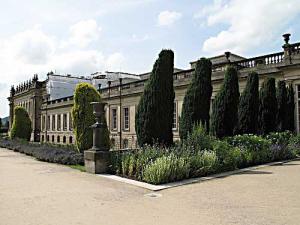 Central to all you want to see and do is The Peacock at Rowlsey. This ancient building combines old world charm with new design to create a boutique hotel that's romantic, welcoming and which has a restaurant equal to many a top London place. What they don't have though is a bed nearby amd miles of scenery outside.
From the outside you see a grand old stone house that only a small sign tells you is a hotel. The old wooden front door swings open to a welcoming hallway and sitting room home to boots, fly fishing rods and reels (the hotel sits on its own private seven mile stretches of the rivers Wye and Derwent), as well as comfortable designer sofas and chairs, plus oodles of crisp, fresh magazines, newspapers and books.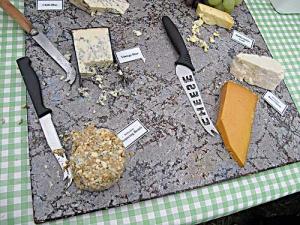 From there we wandered far and wide taking in the beauty of Chatsworth along the way. The Duke of Devonshire certainly has a nice place. Chatsworth has to be one of England's most beautiful stately homes. Conceived and created by Sir William Cavendish and his third wife Bess of Hardwick in the mid 16th Century it is of course a long way from Devon. The title comes from the fact that a grateful King – grateful that William Cavendish had been helpful in the dissolution of the monasteries and in generally waving a sword about – wanted to stump up a suitably rewarding title and Devonshire was available.
From seeing how the other half lived, and sighing over places where Keira Knightley must have rested her corsets between takes, we headed for Bakewell, birthplace of the pudding and the home of the annual Bakewell festival where food, farming, cattle, dogs, machinery, crafts and more besides all come together to create a great three day event for all the family.
So take a trip with us to the Peacock, Chatsworth and Bakewell.