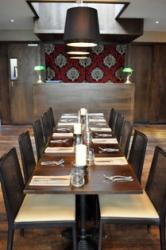 Recently opened following a refurbishment and a change of name, from 'The Farm', My Dining Room is the latest gastro pub to open in fulham. This pub restaurant has some lovely features, one area having been zoned as a lounge with comfortable sofas an open fire and low level lighting, to the other side of the bar there are other discrete areas more in keeping with what you might find in many pubs and some higher tables and chairs immediately in front of the bar. As you walk through to the rear of the pub a huge dining area opens out before you, stylish, but not over stated, the room has several discrete dining areas where a party can dine with some privacy and in the larger areas, the tables are well spaced, it is a comfortable and inviting place to enjoy a meal.
Together with other media types I was invited along, following its recent launch, to sample some of the dishes from their menu. My Dining Room's Head Chef, Julian Marshall, prepared three of his dishes from what he calls his 'home dishes' range for the assembled guests. These were larger sharing dishes which are available as main menu options. To start we had the traditional terrine. This was a medium textured terrine that had some herbiness and was studded with apricot and prune, served with pickles and some good bread. This whole terrine was both a tasty and substantial starter, as there is a tendency to take a slice somewhat larger than you might otherwise, normally selling at £7 per person, it is good value. For mains, we had the garlic roast chicken (£24.50) jointed at the table and the whole sea bream with herb stuffing (28) filleted at the table, each of these sitting on a dish of roasted vegetables. Both the chicken and the bream had good flavour, the vegetables having been cooked with the chicken and fish respectively, were good accompaniments for them.
For dessert I chose the chocolate fondant, which I have to say was one of the best I have tasted. Quite often when choosing these little delicacies I cut into them to find that they are really just a chocolate sponge pudding, but this was excellent, its contents oozing out as I plunged my spoon in to take my first mouthful of this gooey rich chocolaty delight. I also tasted a small portion of the gingerbread and butter pudding which was also very good, light and tasty, served with vanilla ice cream, this is a dessert worth sharing.
My dining room has an interesting wine list most of which are sold by the glass, I tried few. The house white at under £4 per glass was very good, clean, dry and crisp, one of my favourites was a cider that owner Olivier lavigne du Cadet encouraged us to have with desset. I was favourably impressed with what I tasted, and look forward to going back to try some items from the main menu at some point.
My Dining Room, 18 farm Lane, London, SW6 1PP Tel: 020 7381 3331 www.mydiningroom.net