Douglas Blyde ventured to Leith's School of Food and Wine, Hammersmith, to meet acting Managing Director, Jenny Stringer.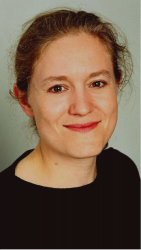 How did Leith's begin?
In 1975, Prudence Margaret Leith OBE founded the school to train the workforce of her catering business and Michelin-starred restaurant.
How was it perceived?
As a finishing school for young women, although Pru was actually a revolutionary, working against the tide of the food culture of the era, which included the likes of tomatoes carved into lily-pads and fish garnished with piped green mash (supposedly giving a sense of the sea).
What's your connection?
I enrolled as a student 18-years ago, fast falling in love with the school's special atmosphere. Everybody's working towards the same thing here, channelling their passion for food into plated perfectionism.
How is Leith's today?
Whilst it's changed dramatically over the last decade, our focus remains firmly on steering 96-students through the year-long diploma. Acclaimed internationally, this is tightly-structured, with transparent marking and a huge amount of hands-on cooking. Through our specialist agency, we also endeavour to match students with jobs.
Who does the diploma appeal to?
Career changers, rather than school leavers. People come to us with a strong awareness of what they need to achieve. We have the most amazing mixture of previous lives, including fearless 23 year-old, Max Anderson, former world champion 'snake-boarder' (a central board with pivoting footplates). Max is trying for a stage at the 'Fat Duck' restaurant, where we currently have a student.
Can you tell a student's former professions by their approach to cooking?
To an extent, although I can always spot former accountants – their attention to detail on the petit fours and canapé day is enormous.
Describe a day for diploma students?
School starts at 9:30am. After completing a time-plan (cooking being all about meeting deadlines) they head to the kitchens where tutors talk through the day's cooking point-by-point, singing from the same song-sheet to prevent confusion. They cook independently, although they might make a stock, for example, in small groups. By 12:30, food is plated, then marked. The afternoon session begins at 2pm, with demonstrations, then a tasting of four-to-five dishes. The day ends at 5pm, although some students stay-on to earn money by washing-up for an evening class, which will be over by 9pm.
Whilst we source almost all ingredients ourselves, students sometimes like to head to Smithfield or Billingsgate markets, returning bleary-eyed with their haul.
What is your feedback?
Students say it's exhilarating, but exhausting and that they learnt much more than they thought. Imagine an ex-lawyer who's done terrible exams, often working through the night. By comparison, a cookery qualification might sound like 'a walk in the park'. But the diploma is an immersion – 16 students per class live and breathe technique, learning a topic a day (at least in the first term).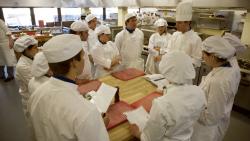 What do you think of those who call the school 'elitist'?
Our students are thrilled to be here, often sacrificing so much: selling houses, relying on partners. They need a plan that reaches way beyond a love of cooking.
How does your new site compare to your previous premises?
Most professional chefs are stuffed underground, behind nailed-up windows. But we're proud of this beautiful building, which is flooded with daylight. Space was so limited before that I didn't even have the luxury of a whole desk to myself! With our secondary kitchens, we can host day-long specialist courses, such as knife skills, which has a waiting list running into 100s. We also run courses on 'super-foods', baking by Yotam Ottolenghi, and vegetarian cooking with teachers from the Cordon Verre. I must admit that the latter never seems to book-up as fast as our beer, wine and chocolate ones…
How does the nation's invigoration of gastronomy filter through?
Our diploma course is consistently full. We find students have pinpoints of areas in which they're very knowledgeable, such as artisan breads, often gleaned from reading seductively beautiful books or watching television programmes. However, whilst they might be fantastic baking, they could be lacking in an area of minimal interest, like not being able to blend a white sauce, or bone-out a chicken. That's why we assume no prior knowledge.
What are you most proud of?
Modernising the Leith's experience, and making sure, through meetings, that we are right for our potential students. Above all, the entry requirement is a passionate enthusiasm and that they actually cook at home.
What's Leith's policy towards students whose diets are restricted by religion?
We teach everyone about special diets, be they religious, or increasingly, gluten free. It might be that we that we give Muslim students chicken instead of tenderloin – but they must still learn the actual technique, and how to make the appropriate sauce.
Could restaurant critics benefit from a course?
It depends whether they write about the actual food. Former student, Lulu Grimes (Food director of magazines, 'Olive' and 'Good Food') is running an eight-week course, including food criticism, feature writing, and getting pitches seen by editors. It was at capacity eight-hours after it was advertised on the website.
Where does Leith's recruit their specialists?
They often come direct to us, like a chef who worked at the nearby gastro-pub, the Anglesey Arms – a former student. We can also bring-in celebrity chefs that students want to learn from, such as Atul Kocchar from Mayfair's 'Benares'.
Where is Leith's going?
We will respond to popular demand to run more one-day courses, from crafting dim-sum, to food styling, to masterclasses like those mooted by former student, Henry Harris of 'Racine' restaurant. Henry plans to give insight into his classic dishes, involving all sorts of butchery. I love the idea of offering people the chance to come and spend a day in the kitchen with one of their favourite chefs.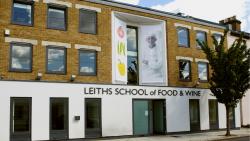 Who are your favourite former students?
Matt Christmas became head chef of Wandsworth's 'Chez Bruce' within four years of leaving us. It's one of my favourite restaurants: where I got engaged and where I'd go for the rest of my life if I could. My measure of what good food means. As a junior teacher, Matt Tebbutt was also one of my first students to graduate. I'm proud to see his smiling face on UKTV's 'Market Kitchen'. He was cheerful and friendly, even as a student.
We stick to our strap-line – 'whether you're here for a day or a year, you're part of Leith's'. We encourage students to keep in lifelong contact, and are not averse to answering grisly questions, such as: 'I've got a lobster in the bath and can't quite remember where to shove-in the knife…'
---
Leith's School of Food and Wine
16-20 Wendell Road, London. W12 9RT